Everything you need to know about Madden 18
Update: One of the newest additions to is its story mode known as Longshot. According to EA, this mode will be a "cinematic and playable" experience. Basically EA is looking to make it a playable movie. 
To get players excited about following the story of Devin Wade, EA has released a video that follows how the mode was made which includes interviews with developers and actors. Watch it for yourself below:
Pre-order Madden NFL 18 on Amazon.com ($59.99)
Did it give you goosebumps?
EA's Andrew Wilson said during the EA Play event that Madden 18's Longshot is the franchise like you've never seen it before. He called this the "most innovative Madden we've done in well over a decade."
New Madden trailer and platitudes aside, we've gathered everything we know about the game – including its release date, trailers and cover athlete – all in one spot. Conserve your energy for the big game, son, you're going to need it. 
Cut to the chase
What is it? The next annual release of the Madden NFL franchise
What can I play it on? PS4 and Xbox One
When does it come out? August 25, 2017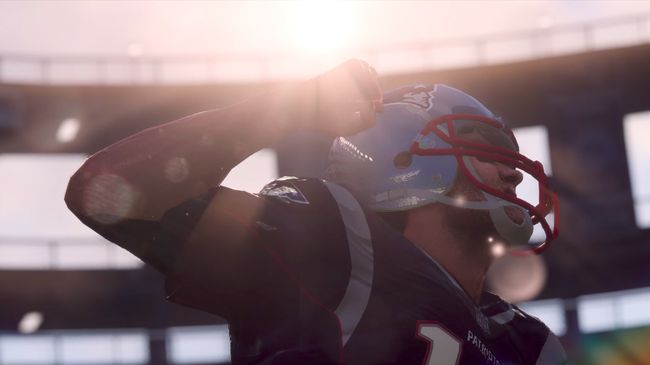 Madden 18 release date
So when can you get your gloves on the latest Madden? For most folks, August 25, 2017 is the time and place for kick-off for the new season. But, if you pre-order the G.O.A.T. Edition of the game, you'll actually be able to play it a few days earlier on Tuesday, August 22, 2017.
Pre-order Madden 18 G.O.A.T. on Amazon.com ($79.99)
Should you decide to drop a little extra on the G.O.A.T. Edition of the game –G.O.A.T. stands for Greatest of All-Time, by the way – you'll receive  one of five Elite G.O.A.T. players, an elite player from your favorite NFL team, 12 Squad Packs, 2500 contracts and one uniform pack in Madden NFL 18 Ultimate Team.
Of course, if you don't need all the extras of the G.O.A.T. Edition but still want to check out the game early, you can always subscribe to EA Access. 
EA Access subscribers can play up to 10 hours of the game starting on Thursday, August 17 with EA Access First Trial. (You'll also get a pretty sweet 10% discount on the game for being a subscriber, too.) 
Madden 18 cover athlete
So who's going to grace the cover of the game this year? Who else but the GOAT – New England Patriots quarterback Tom Brady? 
What makes Brady's nomination particularly exciting is that he follows his teammate, Rob Gronkowski, who was the face on the Madden 17 box.
Check out the box art for yourself: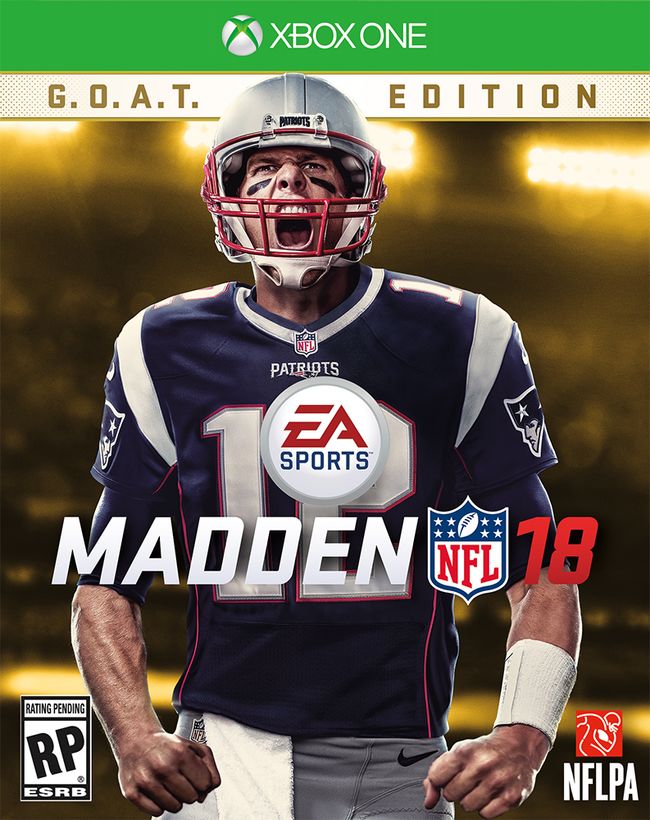 Madden 18 new features and mechanics
If you're just coming out of virtual retirement, a lot has changed since the days of the PS2 and original Xbox era, so try to pay attention while we review some of the basics, and then progress to the new features coming later this year. 
Last year, Madden 17 introduced a simpler way to stop runs and passes called play counters. Instead of choosing specific plays, play counters allowed you to predict what kind of play your opponent would call (a passing play or an inside run, for example) and automatically line your defense up to counter it. 
In franchise mode last year, Madden 17 introduced new "big moments" that shaped your player and your team's future. Deciding to keep a quarterback in after he's had a minor injury could cost you season if he gets hit a second time. Substituting a rookie in might mean the difference between a loss against your rivals and another tally in the win column. 
But all that was last year. What's new in 2018?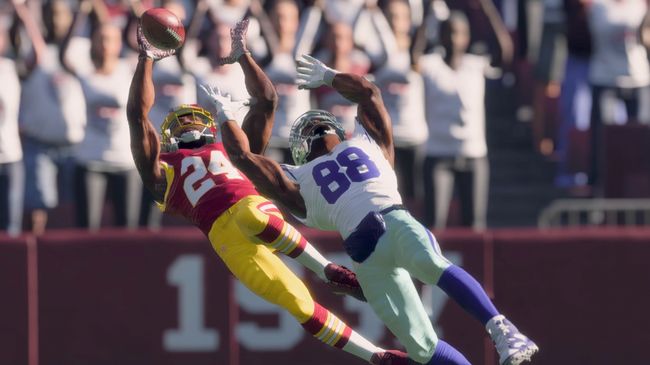 New this year is the Frostbite physics and visual engine that will power the next-gen Madden experience. We've seen this in other EA titles before, but this will be the first time seeing it in the Madden franchise. Also new is the Play Now Live! mode that lets you recreate the best real-world NFL matches of the week. 
According to EA, there's also going to be a new game mode. We haven't heard too much about it yet, but it's supposed to be a variation on the traditional franchise / player creation mode that takes an unknown player you've created to the top of the league.
Gameplay-wise, a new feature called Target Passing will give you better passing control, allowing you to throw the ball to who you want in the exact spot on the field. If traditional play calling is too tough, Madden 18 is introducing three new play styles: Arcade, Simulation and Competitive. Here's a description of each:
Arcade: Action packed excitement filled with spectacular plays and scoring with limited penalties. Simulation: True to player and team ratings using authentic NFL rules and gameplay. Competitive: Your stick skills are key, earn big rewards for your skill or receive bigger penalties.
Also new is the Coverage Assignment feature that helps you track which receiver you're supposed to be guarding when you're on defense. 
You can also expect the return of Madden Ultimate Team and Franchise modes in 2018.
Madden 18 trailer
 A new year, a new football season. Madden 18 rushed onto the stage at EA's Play event at E3 2017, bringing its first-ever story mode along for the ride.
Titled Longshot, this is Madden NFL's first-ever cinematic and playable story mode, according to EA. You play Devin Wade, a prospect who's faded from the spotlight, as he fights through blood, sweat and tears to have his name called by the commissioner on Draft Day.
Watch the new Madden 18: Longshot trailer below:
Pre-orders and early access
Madden NFL's official release date may be August 25 but if you really can't wait there are ways you can kick things off early. According to the official Madden website, the EA Access Play First trial for the game will launch on August 17 which means you get to play an entire week early. 
With the Play First Trial you get access to the full game but you only get to play for a total of 10 hours. 
Unfortunately for PlayStation owners, EA Access is only available on Xbox One. That doesn't mean they don't have options though.
If you pre-order the G.O.A.T edition of the game both PS4 and Xbox One players can start playing on August 22 (3 days early) and get access to a number of exclusive in-game bonuses. 
Being a special edition with extras, the G.O.A.T edition of Madden is more expensive that the standard version of the game and you can find it in the US on GameStop for $79.99 and in the UK you can find the digital download code on Smyths for £79.99.
E3 is the world's largest exhibition for the games industry, stuffed full of the latest and greatest games, consoles, and gaming hardware. TechRadar is reporting live from Los Angeles all week to bring you the very latest from the show floor. Head to our dedicated E3 2017 hub to see all the new releases, along with TechRadar's world-class analysis and buying advice about the next year in gaming.