Remain calm and stay patient. No NFL season has been won or lost through one week of play. But that won't stop anyone from jumping to conclusions based on these initial performances...
---
---
Weighing in on Way-Too-Early Conclusions to Draw from NFL Week 1
0 of 12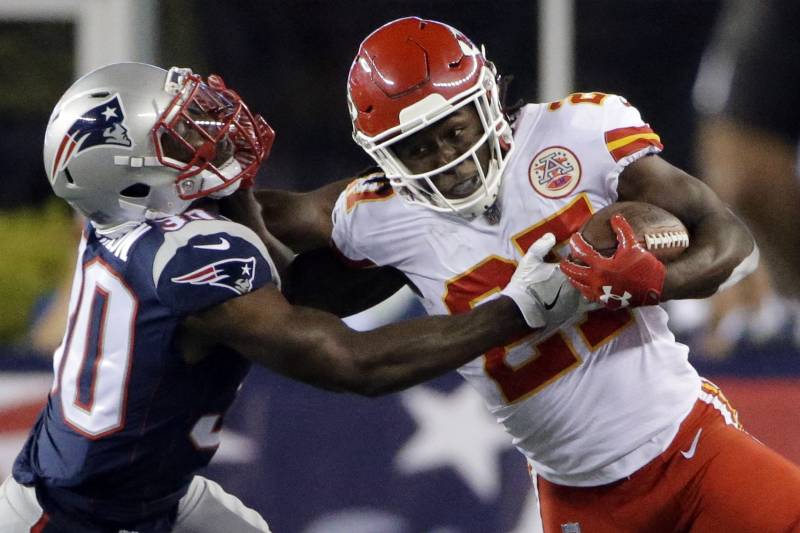 Steven Senne/Associated Press
Remain calm and stay patient. No NFL season has been won or lost through one week of play. 
But that won't stop anyone from jumping to conclusions based on these initial performances. Superstars are born and careers laid low in a blink of an eye. 
Instead of just denying these knee-jerk reactions, though, let's embrace the biggest stories from Week 1 and see which ones have a chance to hold up throughout the campaign. 
Whether your favorite team won or lost during the NFL's opening weekend isn't that important. Far more will be decided in the coming weeks.
However, we may have seen glimpses into the future with those initial performances. 
Kansas City Chiefs Are the NFL's Best Team
1 of 12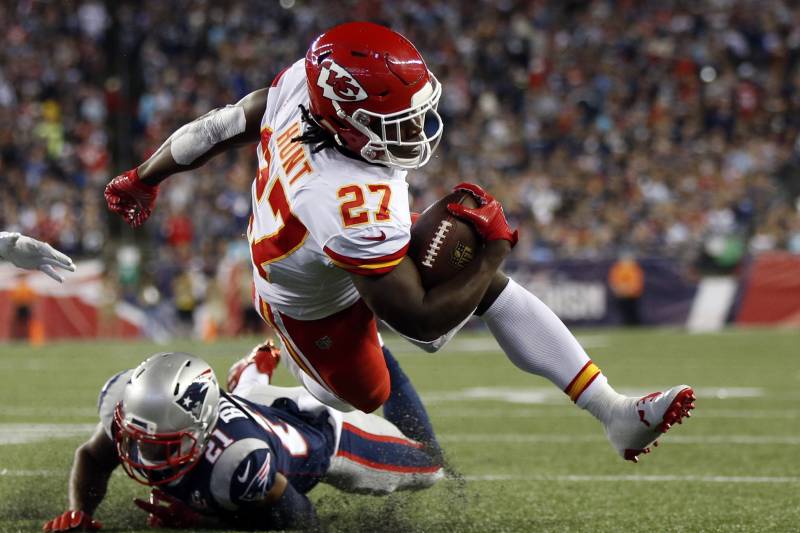 Michael Dwyer/Associated Press
Discussion regarding another perfect New England Patriots regular season abruptly came to a halt when the Kansas City Chiefs visited Gillette Stadium and left with a 42-27 victory. 
The outcome said just as much about the Chiefs' potential as it did the Patriots' disappointment. 
In the past, Kansas City relied on a ball-control passing game and opportunistic defense, but a shift occurred in the team's foundation. Yes, Andy Reid still loves the West Coast offensive principles, and the defense has a similar approach to what it did last year. But the Chiefs are far more explosive on offense, which makes them even more dangerous. 
Alex Smith shirked the "game manager" label for the night and torched last season's top-ranked scoring defense. Smith completed 28 of 35 passes for 368 yards and four touchdowns. He wasn't just efficient; he made the Patriots pay. The veteran signal-caller pushed the ball downfield and torched New England's defense when it blitzed. Smith was 8-of-10 passing when coordinator Matt Patricia sent pressure, according to Pro Football Focus. 
The 33-year-old quarterback can't possibly perform at the same level every week. That's OK because the Chiefs found their new workhorse. Kareem Hunt was supposed to play second fiddle to Spencer Ware, but the incumbent suffered a season-ending knee injury during preseason. The third-round pick responded with 148 rushing yards, 98 receiving yards and three total touchdowns. His 246 yards from scrimmage in his debut were the most ever, per Elias Sports (via ESPN Stats & Info). 
"There was a good chunk there where we were going as Kareem was going," Smith said, per the Associated Press (via ESPN.com). "He was really a big chunk of the offense tonight. For a young guy, we put a lot on him, in all facets of the offense tonight, and he was able to handle it."
Eric Berry's season-ending Achilles injury will hurt the Chiefs defense, but the offense is now dynamic enough to pick up the slack. 
The Chiefs have won 44 games since Reid became the head coach. Their success shouldn't be a surprise. How the paradigm shifted regarding their approach to winning is a big deal, though. 

Outlook: Playoff Squad Just Short of League's Best
Indianapolis Colts Own Inside Track for April's No. 1 Overall Pick
2 of 12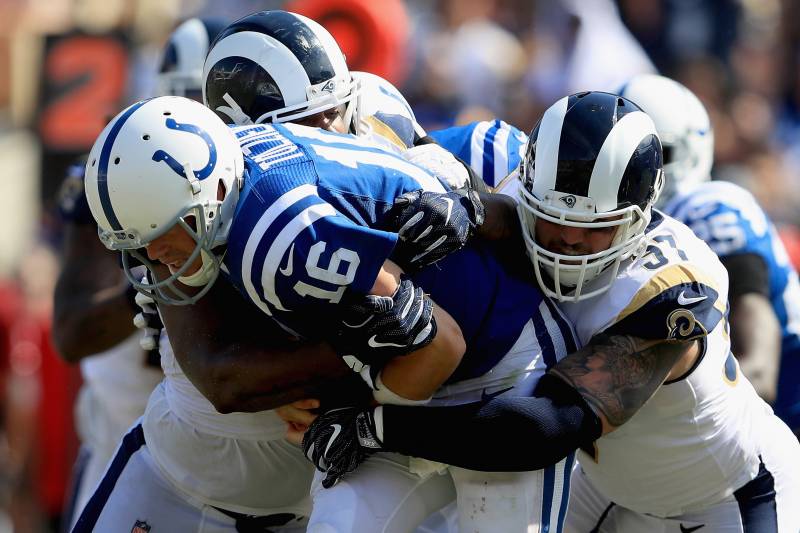 Sean M. Haffey/Getty Images
The Indianapolis Colts are the NFL's worst team. Seriously, they are. 

While the team and its fans hope Andrew Luck appears out of the ether like Daenerys Targaryen flying to Jon Snow's aid, even the quarterback's return to the lineup—whenever that may be—probably isn't enough to save this sinking ship. 
Yes, Luck's presence will help the offense, which was never more apparent than when quarterbacks Scott Tolzien and Jacoby Brissett provided a pathetic performance during Sunday's 46-9 loss to the Los Angeles Rams. But the issues within the roster appear to run even deeper. 
The defeat points to multiple concern areas, starting with the coaching staff's inability to adapt. 
"Out-coached in this football game," head coach Chuck Pagano said, per ESPN.com's Mike Wells. "It's my responsibility and it falls on me. It all starts with me and I didn't do a good enough of a job getting this team ready to go."
Offensively, the running game and line remain worrisome. The Colts running backs averaged 3.1 yards per carry. While the defense performed well against the run, Indianapolis surrendered 306 passing yards to Jared Goff. 
The good news is 14 other teams started the season 0-1. Even if the Colts find themselves in a lost season, the No. 1 overall pick isn't a bad thing because there will likely be a bidding war to trade up for USC's Sam Darnold, Wyoming's Josh Allen or UCLA's Josh Rosen. 
Outlook: League's Worst Until Luck's Return
Arizona Cardinals Are Too Old, Can't Compete
3 of 12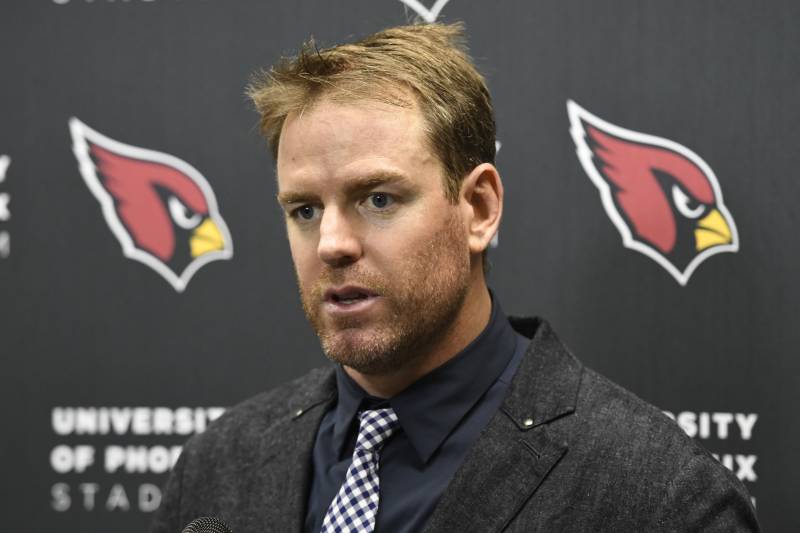 Jose Juarez/Associated Press
The Arizona Cardinals haven't looked quite right since the 2015 campaign. 
All the team has done is gotten older since that point and now features the NFL's oldest starting lineup, per ESPN's Mike Rodak. To be more accurate, Carson Palmer and Larry Fitzgerald aged, and they appear to be on the verge of retirement. 
Running back David Johnson became the heart and soul of the Cardinals offense last year. But Johnson suffered a dislocated left wrist during Sunday's 35-23 loss to the Detroit Lions that could force him to miss 12 weeks, according to AZCentral's Bob McManaman. 
Arizona's backfield now features Kerwynn Williams, Andre Ellington, Eli Penny, the recently acquired D.J. Foster and a re-signed Chris Johnson, per CBS Sports' Jason La Canfora. Any group looks underwhelming after losing arguably the game's best running back. 
Without the team's workhorse in the mix, head coach Bruce Arians must lean heavily on Palmer. The 37-year-old's decline seems apparent after he threw three interceptions Sunday. During his last five games, Palmer has thrown seven touchdowns compared to eight interceptions. 
"I thought the offense was OK," Palmer said, per ESPN.com's Josh Weinfuss. "But just disappointed in my play. Just disappointed in myself. Didn't make enough plays. Made some bad plays. Just disappointed."

The receivers didn't help their veteran signal-caller with multiple drops.
Plenty of talent still exists on the Cardinals roster, particularly on defense. As long as Palmer and Fitzgerald limit their mistakes, Arizona can still compete in a weak NFC West.
Outlook: Too Old to Compete
Rookie Quarterback Provides Answer for Cleveland Browns
4 of 12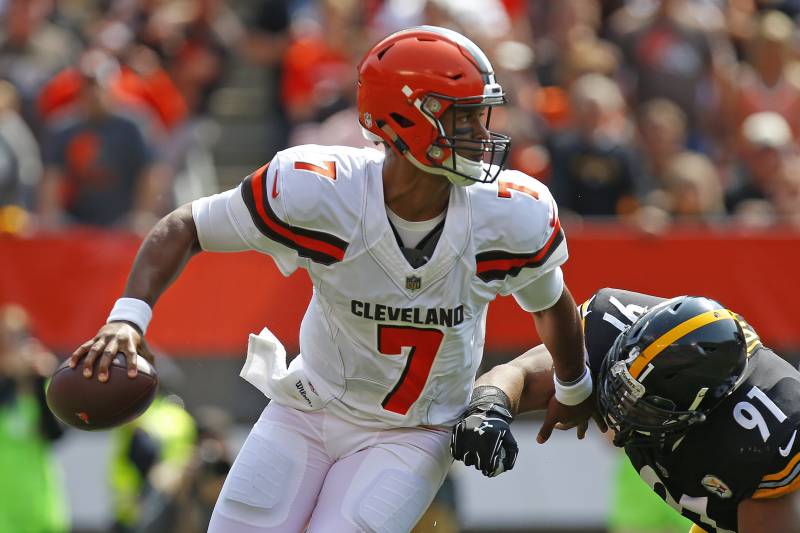 Justin K. Aller/Getty Images
The Cleveland Browns may have finally found their franchise quarterback. It's far too early to anoint rookie DeShone Kizer as the team's savior, yet his potential is obvious. 
Kizer wasn't perfect in his debut against the Pittsburgh Steelers. The rookie completed 20 of 30 passes for 222 yards, a touchdown and a poor interception in the 21-18 loss. The quarterback snuck his way into the end zone for another score. 
On the flip side, the second-round pick displayed poor pocket presence and a slow internal clock, allowing the Steelers to sack him seven times. 
These issues are expected from any rookie quarterback, but Kizer's ability to inspire is something Cleveland lacked for far too long. 
"At the end of the day, this young man gives us hope," head coach Hue Jackson said, per the Cleveland Plain Dealer's Mary Kay Cabot. "He gives you an opportunity to make plays."
Not only is Kizer 6'4" and 233 pounds with a rocket arm and above-average athleticism, but he already showed a level of maturity at only 21 years old to not be overwhelmed by the moment. 
"We are talking about a young rookie quarterback who is one of the youngest players in the league at that position," Jackson continued. "That is exciting for me. It's exciting for our organization.'' 
Once a team is fully behind a quarterback, the entire organization can grow. Cleveland has been burned before, but the NFL's longest running joke just may be reaching its end thanks to Kizer. 
Outlook: Kizer Becomes Browns' Franchise Quarterback
Sam Bradford Enters Elite Quarterback Status
5 of 12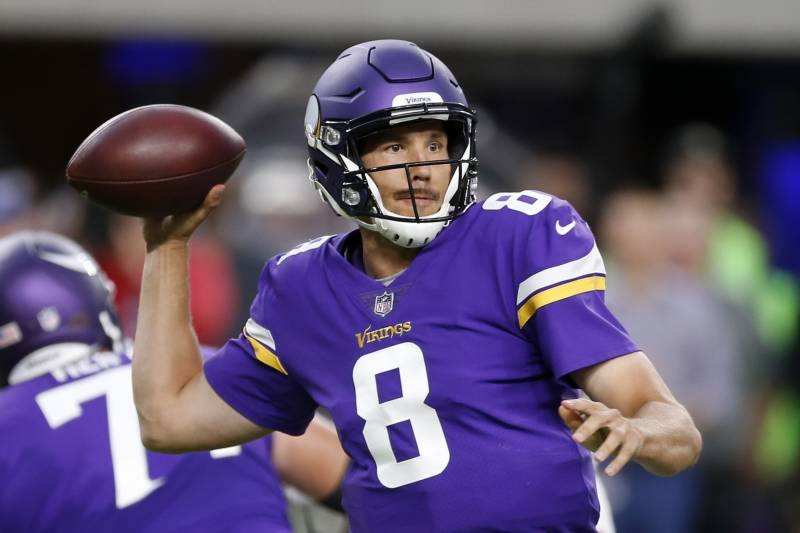 Jim Mone/Associated Press
Sam Bradford's natural ability has never been in question. However, his career has been marred by injuries, trades and an inability to establish a rhythm within a particular offensive scheme. 
At 29 years old and on his third team, the former No. 1 overall pick is finally realizing his potential. 
The signs were evident last season when he set an NFL record with a 71.6 completion percentage even behind a porous line without much of a running game. The eighth-year signal-caller was even better during his 2017 debut against the New Orleans Saints. 
Bradford's wizardry led the Minnesota Vikings to a 29-19 victory on Monday Night Football. He completed 27 of 32 passes for 346 yards and three touchdowns. As accurate as Bradford was during the previous campaign, he was even better during his latest effort. 
The Vikings quarterback was a perfect 6-of-6 passing for 104 yards and a touchdown against the blitz, according to ESPN Stats & Info. Bradford also completed six passes over 15 yards downfield—which he never did during the previous campaign. 
"It was all Sam," wide receiver Stefon Diggs said, per ESPN.com's Kevin Seifert. "Samuel. Sam Bradford. He was just slinging it."
Bradford shouldn't be counted among the league's elite such as Tom Brady, Aaron Rodgers or Matt Ryan, but he continues to improve and provide the Vikings with a steadying presence behind center. 
Outlook: Bradford Not Elite But Good Enough to Lead Winning Squad
Jacksonville Jaguars Establish Identity on Both Sides of the Ball
6 of 12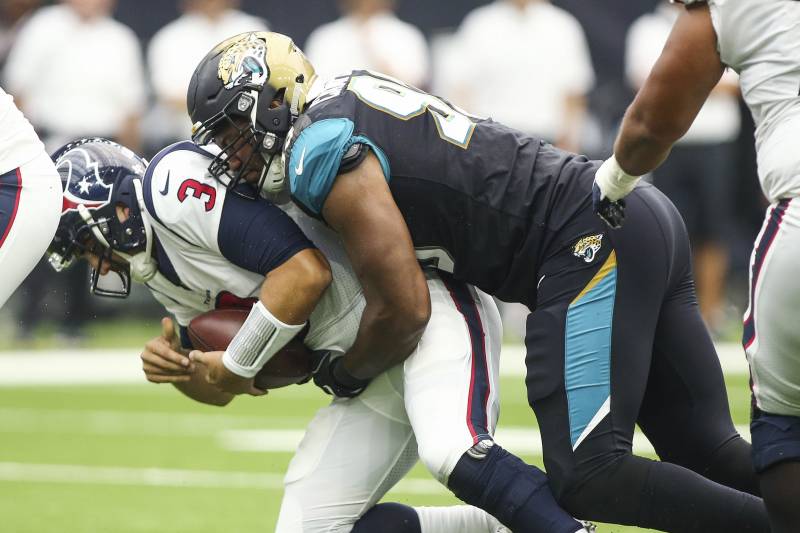 Troy Taormina-USA TODAY Sports
The Jacksonville Jaguars finally found the right recipe for success. No, they can't face the Houston Texans every week, but they can run the football and play stout defense. 
The organization made two monster investments this offseason that paid huge dividends during Sunday's 29-7 victory. 
First, the organization signed defensive lineman Calais Campbell to a four-year, $60 million contract at the start of free agency. Campbell was a dominant interior defender during his nine seasons with the Arizona Cardinals. He was also a team leader and a great locker room personality. 
His presence made a difference for the Jaguars when he set a franchise record with four sacks against the Texans. The entire defensive unit managed 10 sacks. 
"We want to be the best defense in the league and we have that ability," Campbell said, per ESPN.com's Michael DiRocco. "But like I said, it doesn't mean anything if you don't continue with it. But it does feel good. We played a great game, with directing our game plan very well. I made a lot of plays, and when you do that you're going to win games."
Second, the team used the fourth overall pick in April's draft to select running back Leonard Fournette. In his first contest, the uber-talented runner carried the ball 26 times for 100 yards and a touchdown. He's now the focal point of the offense, while far less responsibility falls on quarterback Blake Bortles. 
Tom Coughlin's fingers are all over the team's new blueprint.
Outlook: New Identity Allows Jags to Compete in AFC South
Chicago Bears Have Another Star Running Back
7 of 12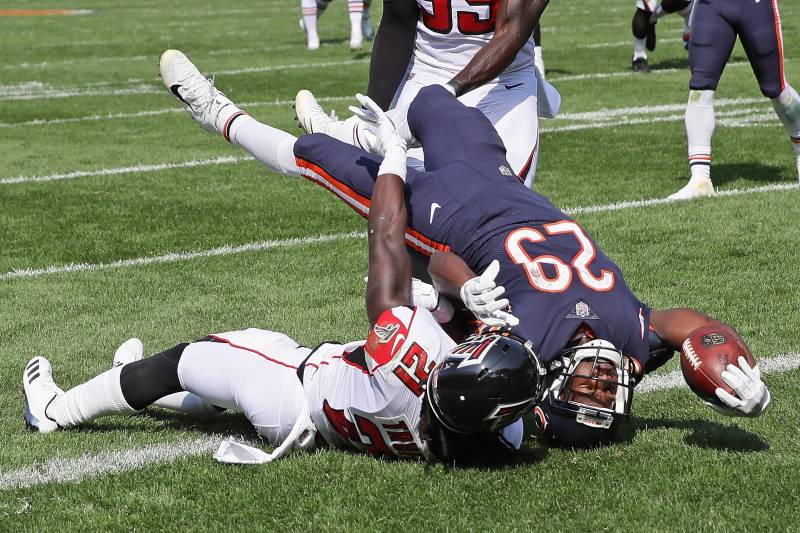 Jonathan Daniel/Getty Images
The Chicago Bears may need all the help they can get at wide receiver, but they're stacked at running back. 
Jordan Howard finished second in the NFL last season with 1,313 rushing yards. The Bears front office found a perfect complement to Howard when it drafted Tarik Cohen in the fourth round of April's draft. 
Cohen is lightning in a bottle personified. The 5'6", 172-pound ball-carrier with 4.42-second 40-yard-dash speed lived up to his nickname as the "human joystick" during the Bears' 27-23 loss to the Atlanta Falcons. The North Carolina A&T product led the Bears in both rushing (66) and receiving (47) yardage while also serving as their punt returner. 
"The secret's out on what we have in him," quarterback Mike Glennon said, per CSN Chicago's J.J. Stankevitz. "We knew how good he was going to be with us and he showed that today. His very first game in the NFL, and he did it all. He ran the ball, caught the ball and scored a touchdown. He's a playmaker, and we're lucky to have him. He's going to continue to be a big part of our offense."
Cohen's emergence can have a major impact on Chicago's offense. The team's top two receivers—Cameron Meredith and Kevin White—are both on injured reserve.
As coordinator Dowell Loggains scrambles to adjust his system, Cohen's contributions in the passing game will be as important—if not more so—than his ability to spell Howard. 

Outlook: Cohen Becomes Major Contributor in Bears Offense
Head Coach Sean McVay Makes All the Difference for QB Jared Goff, Rams O
8 of 12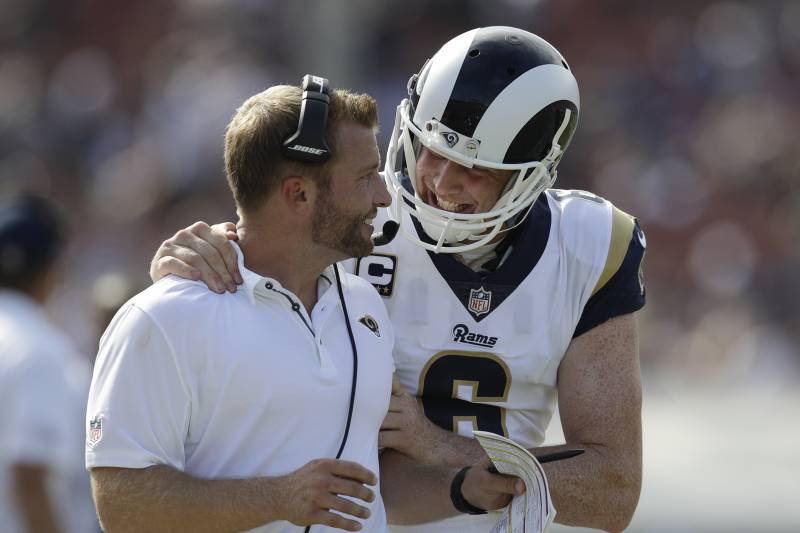 Jae C. Hong/Associated Press
Maybe, just maybe, Los Angeles Rams quarterback Jared Goff is pretty good. Or, he's finally being placed in a position to succeed by new head coach and offensive play-caller Sean McVay. A little bit of both is probably true. 
The Rams organization spent the offseason trying to build an offense around last year's No. 1 overall pick. The franchise hired McVay to update the league's worst offensive scheme. Robert Woods signed in free agency. The front office selected Gerald Everett, Cooper Kupp and Josh Reynolds with three of its first four draft picks and traded for Sammy Watkins. 
This sweeping change led to a Rams 46-9 victory over the Indianapolis Colts, the offense had 373 yards. It hasn't averaged over 300 yards since 2014. It provided a league-worst 262.7 yards per game last season. 
Goff completed 21 of his 29 passes for 306 yards and a touchdown. The Cal product pushed the ball downfield, too. He connected on four of five passes attempted over 20 yards, per Pro Football Focus. 
As well as the quarterback performed, it all started with the head coach. 
"When McVay got here, he raised our accountability level, our standards," linebacker Robert Quinn said, per the Associated Press (via Fox Sports). "And I think guys are having fun. Of course, we're looking for improvements every week, but it's a good place to start."
The Rams are better off with McVay leading the way. The team still needs to prove it can be competitive on a weekly basis, and Goff must continue his development, but a promising start should have the organization and its fanbase excited.
Outlook: Goff Plays Well All Season Under McVay's Direction
Steelers' T.J. Watt Is as Good as His Big Brother
9 of 12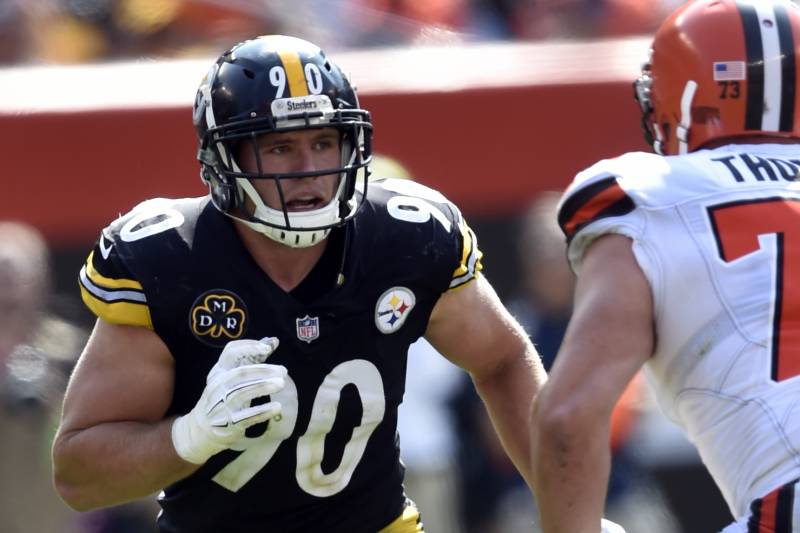 David Richard/Associated Press
Little brothers live in the shadow of their big brothers. It's just a fact of life. 
J.J. Watt casts a wide shadow as a three-time NFL Defensive Player of the Year, and T.J. Watt will always be J.J.'s little brother. But the younger sibling made everyone notice his play during the opening weekend instead of just discussing his bloodlines. 
In fact, T.J. Watt did something in his debut that his brother never accomplished when he recorded a pair of sacks and an interception during the Pittsburgh Steelers' 21-18 victory over the Cleveland Browns.
This year's 30th overall pick gave all-world left tackle Joe Thomas everything he could handle plus more. T.J. Watt's teammates were more impressed by his understanding of the game and his positioning to make plays. 
"He understands what we need from him, and he goes out and executes," defensive end Cameron Heyward said, per ESPN.com's Jeremy Fowler. "He's a smart rusher. He doesn't put himself in situations where he's out of a play."

As a result, the Steelers defender became an early contender for NFL Defensive Rookie of the Year. T.J. Watt has a long way to go to be considered his brother's equal on the football field, but the initial signs were positive. 
Outlook: Watt Named to All-Rookie Team
Dallas Cowboys Secondary Makes Name for Itself
10 of 12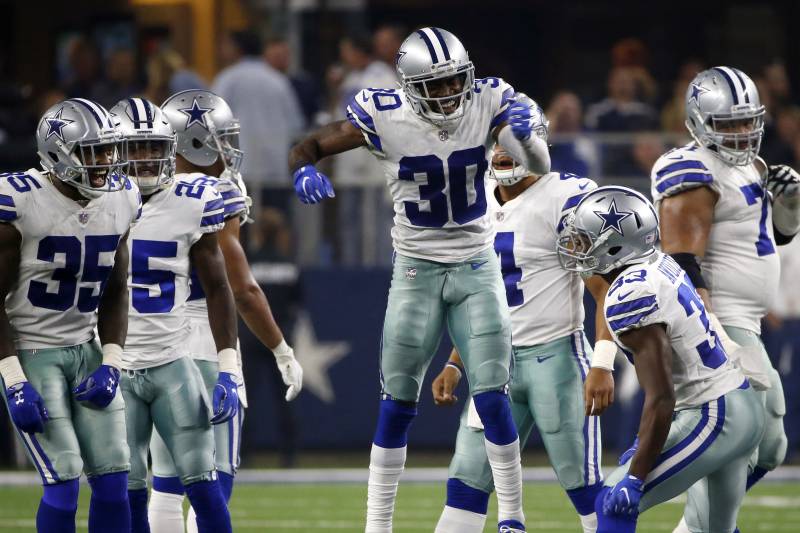 Ron Jenkins/Associated Press
The Dallas Cowboys secondary underwent a major overhaul this offseason, and the group appears to be better as a result. 
Brandon Carr, Barry Church, J.J. Wilcox and Morris Claiborne all signed with other teams during free agency after starting multiple games last season. The Cowboys front office decided to lean on those left on the roster plus the additions of Nolan Carroll and a couple of draft picks. 
Even when veteran Orlando Scandrick left Sunday's 19-3 victory over the New York Giants with a broken hand, one rookie proved to be ready for the opportunity. 
Chidobe Awuzie ranked second among first-year corners when he allowed 0.71 yards per coverage snap in Week 1, per Pro Football Focus (via Cowboys News). Last year's first-year standout, Anthony Brown, was even better. Brown allowed only one reception for six yards and a zero quarterback rating in his coverage, per PFF. His interception sealed the Cowboys victory, too. 
The Giants were without Odell Beckham Jr., but head coach Ben McAdoo now knows who the Cowboys cornerbacks are after needling them a little bit last week. 
"Ultimately you are measured by how many points you give up," Cowboys coach Jason Garrett said, per ESPN.com's Todd Archer. "For us to hold them to three points, they've got a lot of weapons on that offense. Obviously the quarterback is outstanding. So for us to be able to do that against that offense, I thought that was impressive." 
Outlook: Secondary Has Potential, But It'll Be Inconsistent
Seattle Seahawks Offensive Line Will Destroy Team's Season
11 of 12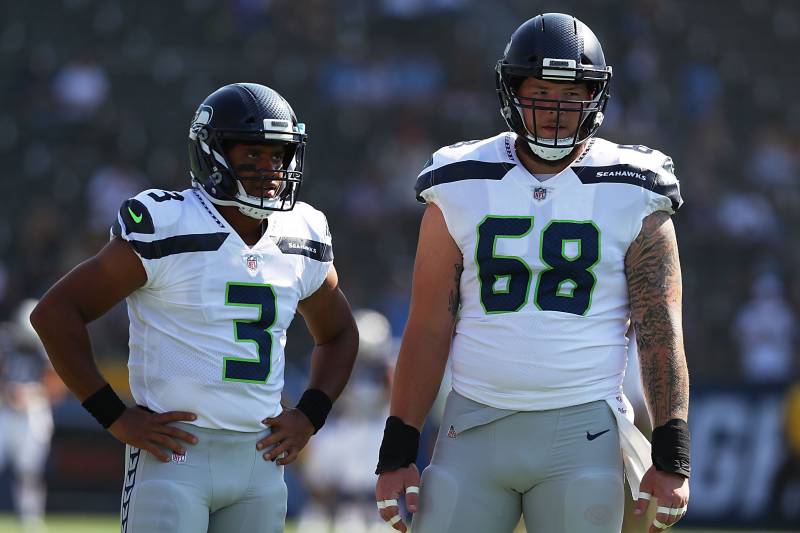 Joe Scarnici/Getty Images
Offensive line play, in general, was awful around the league. Few teams can say they have Super Bowl aspirations despite their issues along the front line. The Seattle Seahawks can, but it doesn't look good after their front five's initial performance against the Green Bay Packers. 
"I am disappointed we are talking about that today," Seahawks head coach Pete Carroll said of his offensive line Monday, per the Tacoma News Tribune's Gregg Bell. "I thought we were moving in the right direction. I've seen us move in the right direction."
Preseason doesn't count. The Seahawks offensive line failed again when the bright lights of the regular season fell upon its underachieving blockers. 

"Things that we worked on and all, they just didn't come out and didn't hit right at game time," Carroll added. 

The Seahawks coaching staff won't acknowledge it, but its offensive line remains one of the league's worst. As a unit, it surrendered three sacks and seven more quarterback hits. Russell Wilson's incredible ability to evade rushers was the reason those numbers weren't greater. 

Left tackle is the biggest issue. Rees Odhiambo is not the answer after George Fant went down during the preseason with a season-ending knee injury. Odhiambo surrendered a sack, two quarterback hits and three hurries, according to Pro Football Focus. The rest of the group wasn't much better. 
Seattle is fortunate the NFC West is weak. Despite the team's obvious flaw, it's still good enough to claim another division crown. But the offensive line will hold the team back throughout the regular season and dash the organization's Super Bowl aspirations.
Outlook: Seahawks Win NFC West; Early Playoff Exit
Oakland Raiders Find Sebastian Janikowski's Replacement
12 of 12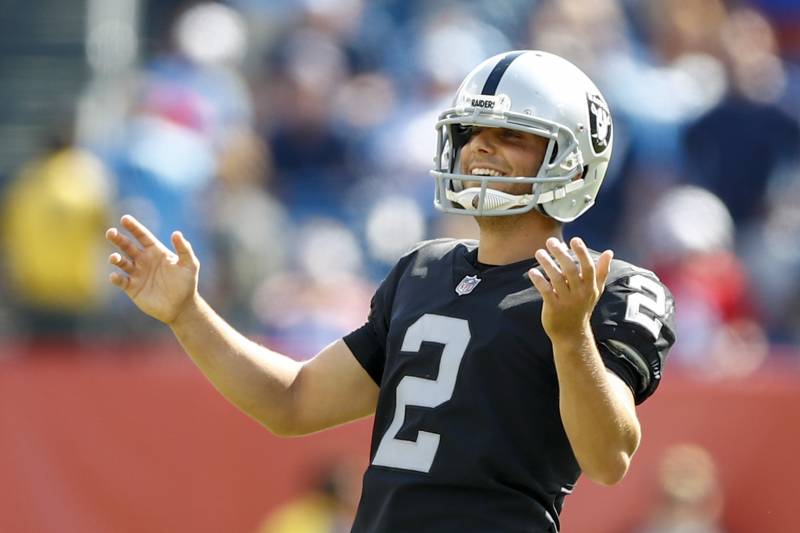 Wesley Hitt/Getty Images
Kickers deserve some love every now and again, especially when they overcome adverse conditions. 
The Oakland Raiders released Giorgio Tavecchio at the end of training camp. After all, he was nothing more than a camp leg to lighten Sebastian Janikowski's load prior to the regular season.
But the 39-year-old kicker needed to be placed on injured reserve because of a lingering back issue, per NFL Network's Ian Rapoport. The Raiders were smart enough to keep Tavecchio on their practice squad and added him to the active roster prior to Sunday's contest against the Tennessee Titans.
The left-footed specialist boomed a pair of 52-yard field goals and became the first kicker in NFL history to have two makes of 50 yards or more in his debut, according to Elias Sports (via ESPN Stats & Info). He converted all four of his attempts in the 26-16 victory. 
"It couldn't happen to a better person," quarterback Derek Carr said, per USA Today's Nancy Armour. "When he was knocking those kicks, from coaches to players to staff, there wasn't anyone who wasn't smiling. Obviously, he's doing things to help us win the game, but it's more so for the person."
Janikowski may return after Week 8, but the Raiders will have a choice to make if Tavecchio builds off Sunday's performance. After all, he's 12 years younger and costs nearly $3 million less than the veteran. The team's last link to Al Davis may be on his last legs because organizations often go with the younger and cheaper option. 
Outlook: Tavecchio Takes Janikowski's Job