The Cleveland Cavaliers were ruthlessly dominant in Game 2, because they're already thinking NBA Finals.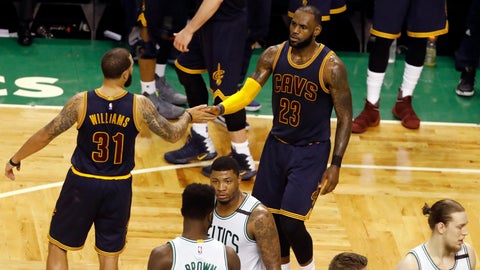 To LeBron James, the Boston Celtics aren't a playoff opponent.
They're a courier service. LeBron has a message for the Golden State Warriors, and he's using poor Brad Stevens' team to make sure it gets delivered: "We've flipped the switch. We're ready for you."
Now, it's one thing to make that statement out loud. Anyone can claim to be prepared for the onslaught to come. The Celtics said they were ready for the Cavaliers in Game 2, after all, with Isaiah Thomas going so far as to point out Cleveland isn't the fabled Monstars squad from the movie "Space Jam."
That's true, IT. The Cavaliers are real — and they're ruthless. They took a 41-point lead into halftime on Friday night, then saw no reason to let up.
LeBron finished with 30 points on 12-for-18 shooting, seven assists, four rebounds, four steals and three blocks in 33 minutes, Kyrie Irving and Kevin Love combined for 44 points, and Cleveland buried Boston 130-86.
David Butler II David Butler II-USA TODAY Sports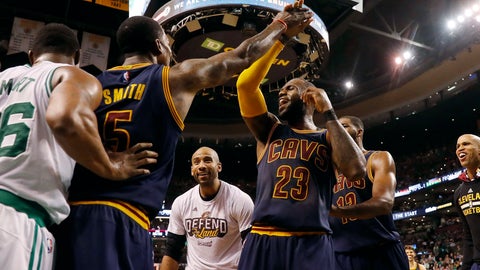 Such devastation was the point for the Cavaliers.
They're trying to put the fear of the basketball gods into the Warriors by showing that LeBron is the alpha and the omega of the NBA.
He's using the Celtics to demonstrate the full breadth of his powers. In Game 1, he played all 12 minutes of the first quarter, proving he's more than happy to go the distance throughout the Finals if necessary. In Game 2, he played all three frontcourt positions — yes, including center, when Cleveland laughed at Boston's attempt to play small-ball by going even smaller.
The Cavaliers probably didn't need to one-up the Celtics, but who cares about that green-clad practice squad? LeBron was making a point: "Play Draymond Green at the five. Please. I'll check him, and check into his head, where I already have a room reserved."
Sorry, Boston. You're a means to a King's end.
Winslow Townson Winslow Townson-USA TODAY Sports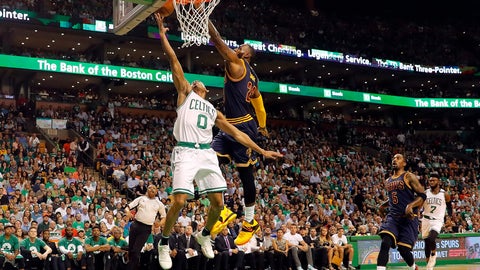 The one remaining question for the Cavaliers is whether their defense will hold up against the Warriors' rocket-fuel-powered attack. While we won't know until June, I like Cleveland's chances.
The Cavs didn't just blow the Celtics off the court with their offense. They were at their absolute best defensively in Game 2, mixing up blitzes, traps and drops in coverage to befuddle Boston's ball-handlers. Thomas (who left the game at halftime with a strained right hip) & Co. never stood a chance.
The Warriors aren't the Celtics, of course. Golden State will test Cleveland in ways it hasn't experienced.
And LeBron's team will be ready.
Winslow Townson Winslow Townson-USA TODAY Sports
Cavs send Celtics to record loss
5mth