Picking nits when a team wins each of its first nine postseason games isn't recommended, but such activity couldn't be avoided for a Cleveland Cavaliers squad preparing for a seemingly inevitable rubber match with the Golden State Warriors ...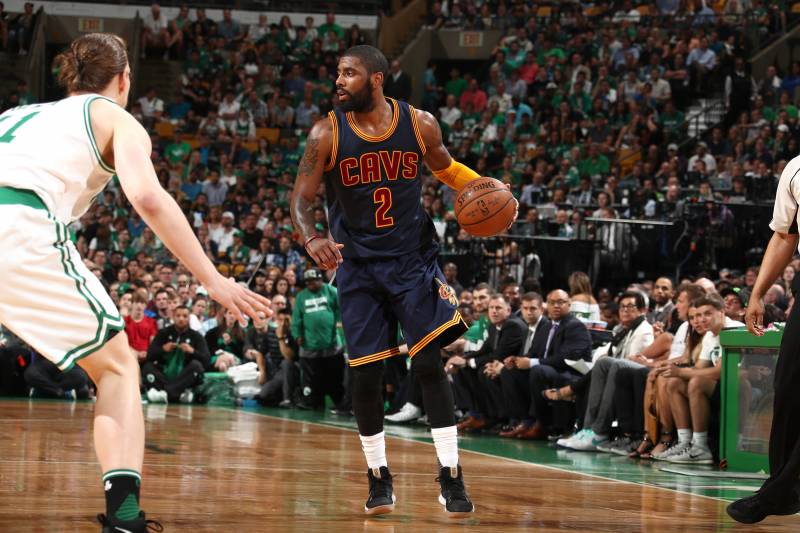 Nathaniel S. Butler/Getty Images
Picking nits when a team wins each of its first nine postseason games isn't recommended, but such activity couldn't be avoided for a Cleveland Cavaliers squad preparing for a seemingly inevitable rubber match with the Golden State Warriors.
Cleveland swept the Indiana Pacers in the first round, but it won the four games by a combined 16 points. Its defense hadn't yet flipped the proverbial switch. The margins increased while the brooms came out against the Toronto Raptors, but Kyle Lowry was injured. And LeBron James was doing all the heavy lifting for the defending champions. 
Game 10 ensured the "buts" would go away.                 
En route to a 130-86 victory over the Boston Celtics on Friday—who, lest we forget, are actually the No. 1 seed in the Eastern Conference—the Cavaliers rocketed to a playoff-record 41-point halftime advantage at TD Garden: 
Ben Dowsett @Ben_Dowsett
Cleveland's 41-point halftime lead is the biggest in a playoff game in NBA shot-clock era history, per @bball_ref.
2017-5-20 01:34:55
And for the first time, everything clicked. 
The offense was on point throughout the proceedings, scoring 71 points in the first 24 minutes and refusing to take its foot off the gas until the final buzzer. The defense took Isaiah Thomas out of the game before he eventually exited for good with a hip injury. It rotated perfectly against everyone, ensuring a high-powered Boston attack could never get going. 
But most importantly, this was a team effort. 
The first three rounds have been little more than perfunctory performances for Cleveland. It was always going to storm through the East, awaiting a showdown with either the Golden State Warriors or a Western Conference foe that managed to upset Stephen Curry, Kevin Durant, Draymond Green and the rest of the Dubs. So while going 12-0 before hitting the biggest stage was a nice goal (and still an achievable one), getting the entire roster on the same page always carried more import.
Through the Indiana and Toronto series, as well as the first game of the Boston beatdown, many of the Cavs weren't just on different pages; they were reading different chapters. As evidenced by NBA Math's total points added (TPA) metric, wine-and-gold-clad players not named LeBron James had been thoroughly mediocre: 
NBA Math @NBA_Math
Heading into Game 2, here's how the Boston Celtics and Cleveland Cavaliers stack up in postseason TPA: https://t.co/vghvoLvGtG
2017-5-19 20:08:53
Each axis represents league-average play, which means through nine games, only Tristan Thompson and JR Smith had served as distinct plusses on both ends. Kyle Korver, Deron Williams and Channing Frye had made substantial offensive contributions off the pine, but that didn't make up for the relative disappearances of Kyrie Irving and Kevin Love (buried under the mass of humanity at the graph's origin).
That changed Friday night.
James was (again) otherworldly, picking apart the Celtics with his on-target feeds, barrage of jumpers, plethora of rim-running assaults, tendency to jump passing lanes and ability to provide chasedown blocks. He finished with 30 points, four rebounds, seven assists, four steals and three blocks while shooting 12-of-18 from the field, and somehow, that still seems to sell his impact short.
This time, however, he wasn't the only standout.
The entire defense coalesced around his herculean efforts. Every Boston attempt saw a heavy, inspired contest, whether by perimeter defenders running to affect jumpers or post players bodying up and refusing to cede even an inch. The TD Garden crowd witnessed an inspired performance from start to finish, and point-preventing prowess pervaded, regardless of whether starters or plucky backups pranced down Boston's parquet floor.  
And yet, the offense may still have been more impressive. 
Up to this point in the postseason, Irving's scoring average (22.3 points per game) belied his actual offensive impact. His shot had disappeared after the regular season, leaving him connecting on just 39.7 percent of his field-goal attempts and 26.7 percent of his triples. But that version of the high-scoring floor general was nowhere to be found in Game 2, save an ill-advised isolation attempt against Marcus Smart at the end of the first quarter. 
It was Irving who got the scoring started with a pretty spin and lefty finish:
And Irving who found Kevin Love with a perfect feed for an uncontested dunk: 
And, more generally, it was Irving who consistently danced past defenders and kept Boston off balance. The threat of his efficient production forced the Celtics' bigs to sag back and contest his looks in the paint, which, in turn, opened up the court for everyone else. Just like James, Irving's line—23 points (on 8-of-11 shooting) and three assists—can't encapsulate the extent of his value. 
One of the beneficiaries of the 1-guard's gravity? That would be a sharpshooting, intensely defending version of Love, who finished with 21 points and 12 boards. 
The power forward's three-point shooting has worked throughout the postseason, and that continued in Game 2. He looked confident, rising and firing whenever the ball found its way into his shooting pocket, and tight defense didn't seem to slow him down. 
But his overall presence was still different this time, providing a strong encore to his growth in the first game of the in-progress-but-pretty-much-already-finished series. Rather than relying almost solely on that perimeter stroke, he actively cut to the hoop, asserted himself on defense and remained active as a passer. He was a complete player rather than a complementary one, which should help him move away from the origin in yet-to-come versions of the previous TPA chart.
Michael Pina @MichaelVPina
If Kevin Love shoots like this in the Finals, the Warriors are gonna wish they traded Klay Thompson for him three years ago
2017-5-20 01:27:31
With Irving clicking, Love connecting and the rest of the Cavaliers thriving around James' all-around excellence, Cleveland finally looked worthy of the "defending champion" title. That's not to denigrate its exploits in the first two rounds but rather to highlight just how well it played in front of a hostile crowd from which The Ringer's Bill Simmons had exhorted vitriolic chants before the game:
Bill Simmons @BillSimmons
I'm not going to Game 2 tonight but believe it's crucial for C's fans to loudly chant "You're a ba-by!" every time LeBrob bitches at a ref.
2017-5-19 15:49:46
This is the level the Cavs must not just reach but remain at in their quest to go back-to-back. The Warriors are similarly rolling through their half of the postseason field, also dropping nary a game thus far. And they may be even better than the iteration that famously blew a 3-1 lead to Cleveland in last year's NBA Finals. 
Given his superhuman efforts and G.O.A.T.-challenging performances, James alone might be enough to test the Bay Area representatives—or the San Antonio Spurs, if Kawhi Leonard gets healthy and somehow digs them back from a 2-0 deficit in the Western Conference Finals. But Cleveland will feel much more confident if Friday night provided a sign of what's to come. 
When your most complete performance comes in your most recent outing, that's never a bad thing. 
Adam Fromal covers the NBA for Bleacher Report. Follow him on Twitter: @fromal09. 
Unless otherwise indicated, all stats from Basketball Reference, NBA.com, ESPN.com or NBA Math and accurate heading into games Friday.