The Cleveland Cavaliers are making the 2017 Eastern Conference Finals look way too easy, cruising to a 130-86 victory over the Boston Celtics for a 2-0 series lead...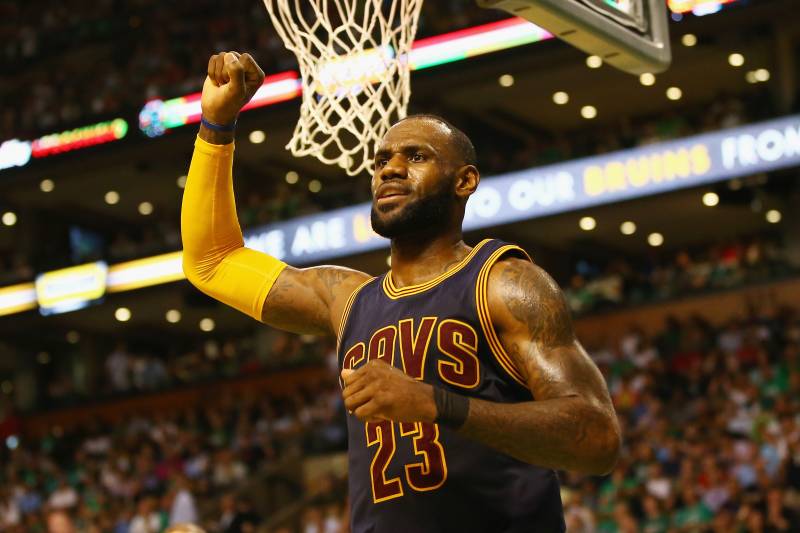 Adam Glanzman/Getty Images
The Cleveland Cavaliers are making the 2017 Eastern Conference Finals look way too easy, cruising to a 130-86 victory over the Boston Celtics for a 2-0 series lead. 
LeBron James tied Michael Jordan's playoff record with his eighth straight game of at least 30 points, scoring exactly that amount before taking a seat on the bench. He added seven assists, four rebounds, four steals and three blocks in the win. 
The Cavs wasted no time enforcing their will on the Celtics by going on a 12-0 run after an Isaiah Thomas free throw cut the lead to 11-10. Things would continue to spiral downward for Boston in front of its hometown fans, and the team trailed 72-31at halftime. 
Per SportsCenter, the Cavs' halftime lead set a new NBA record:
SportsCenter @SportsCenter
The Cavaliers 41-point lead is the largest halftime lead in NBA postseason history. 👀 https://t.co/EfbdWOzX57
2017-5-20 01:38:01
Cleveland's Big Three Shine
Cleveland's Big Three did the bulk of the work. James led the way, while Kevin Love chipped in with 21 points and 12 rebounds, and Kyrie Irving got back on track with 23 points after shooting just 4-of-11 in Game 1. 
It would be hard to pinpoint anything that went wrong for the Cavaliers in Game 2. The defending NBA champions are firing on all cylinders, moving to 10-0 this postseason. They shot 56.5 percent overall, including 48.7 percent from three-point range. 
Here's what social media thought of the mass destruction James, Love and Irving inflicted on the Celtics:
Andrew Claudio @Claudio_GSN
Let's see how Cavs/Celtics is going... https://t.co/yZktnaa7mQ
2017-5-20 01:32:33
Ben Axelrod @BenAxelrod
Isaiah Thomas was right, the Cavs aren't the Monstars. They're better.
2017-5-20 01:28:15
Hunter Felt @HunterFelt
This series has proven that the Celtics are a player away from competing with the Cavaliers.Unfortunately for them that player is LeBron.
2017-5-20 01:33:29
Benjy Sarlin @BenjySarlin
It's adorable how every year we convince ourselves that maybe that one East team can beat Lebron if you squint juuuust hard enough
2017-5-20 01:36:40
Hardwood Paroxysm @HPbasketball
Celtics fans, Tuesday: "Nothing you can do can take away how great this week is."/LeBron cranes neck, stretches
2017-5-20 01:45:34
ESPN Stats & Info @ESPNStatsInfo
The 44-point margin of victory for the @cavs is the largest in a game in Eastern Conference Finals history.
2017-5-20 02:51:55
Celtics Can't Adjust
It was easy to excuse Boston's performance in Game 1 against the Cavs because it was coming off an emotional, hard-fought seven-game series against the Washington Wizards.
The Celtics had just one day off before the Eastern Conference Finals began, so shooting 31.6 percent from three-point range and 55.6 percent from the free-throw line was defensible. 
Friday was just a case of the Celtics not being as good as the Cavaliers. They were run off the court in the first quarter before getting toyed with like a mouse that has been caught in the crosshairs of the biggest and baddest cat in the neighborhood. 
Thomas and Al Horford combined to go 0-of-10 in the first half with a total of two points. Their problems were compounded because the rest of the Celtics had nothing going, combining to shoot 37.2percent for the entire game. 
Making matters worse for the Celtics, Thomas suffered a strained right hip during the game and didn't return. 
The internet was not particularly kind to the Celtics after this showing:
Michael Rosenberg @Rosenberg_Mike
The Celtics are the first team ever to tank AFTER winning the lottery.
2017-5-20 01:45:57
Yahoo Sports @YahooSports
This is all the Celtics need during halftime for the most epic comeback of all time: https://t.co/Eg3kvkAQWL
2017-5-20 01:45:33
Zito @_Zeets
Celtics game 2 summary https://t.co/B4BVUXENZj
2017-5-20 01:46:43
Shooter McGavin @ShooterMcGavin_
The Celtics trying to put up a fight against Lebron https://t.co/GSJyzvZYWa
2017-5-20 01:34:35
The Ringer @ringer
Mood https://t.co/SxOT2Cxvpb
2017-5-20 01:24:26
Bleacher Report @BleacherReport
130-86. LeBron & Cavs hosed the Celtics. https://t.co/VIsvuUuwyl
2017-5-20 02:50:49
The Cavaliers did their damage in the first two games of this series on the road. They get to head home for the next two games and show no signs of taking their foot off the gas pedal. 
No one can accuse the Celtics of phoning it in despite this margin of victory. They are just being picked apart by a better team. 
Even though the Celtics ended the regular season with a better record, the Cavaliers still have the best player on the planet who is operating at a level unlike anything he has shown before. 
Facebook Logo
Twitter Logo
Copy Link Icon
Comments Down Arrow Icon
Related

Lillard: Good Luck to Warriors If Blazers Get Melo
Adam Wellsvia Bleacher Report

Jerseys Could Burn If LBJ Joins These Teams
David Gardnervia Bleacher Report

Report: Lakers Meet with D-Rose
Timothy Rappvia Bleacher Report

Video Play Button
Could an Ex-Kentucky Superteam Take Down NBA's Best?
Bleacher Reportvia Bleacher Report
Celtics' conundrum: How to defend Cavaliers' LeBron James
2mth