With Opening Day just weeks away and offseason business largely concluded, there really aren't many significant roster holes left in Major League Baseball. That doesn't mean we can't spot a few and propose trades that could fix them...
---
---
Impact MLB Trades to Fix Teams' Huge Spring Training Holes
0 of 5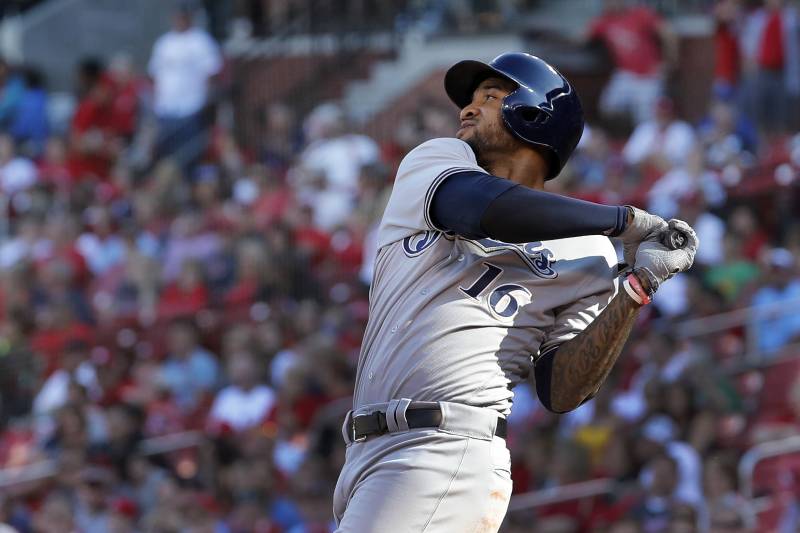 Where Domingo Santana might fit, and more.Jeff Roberson/Associated Press
With Opening Day just weeks away and offseason business largely concluded, there really aren't many significant roster holes left in Major League Baseball.
That doesn't mean we can't spot a few and propose trades that could fix them.
Ahead are five trades that probably won't happen before Opening Day on March 29, but which are at least within the realm of possibility. One patches a hole left by an injury. Two others strengthen major weaknesses. Two more would make existing strengths even stronger.
Let's get to it.
Justin Bour to the Houston Astros
1 of 5
Brace Hemmelgarn/Getty Images
Given that last year's World Series triumph was followed by a productive offseason, the Houston Astros were probably due for some bad news.
It arrived in late February when first baseman Yuli Gurriel, who had an .817 OPS and 18 home runs in 2017, underwent surgery on his left hand. That will keep him out as long as six weeks, and he'll still have to serve a five-game suspension for the offensive gesture he made during the 2017 World Series.
Understandably, the Astros aren't panicking. As Brian McTaggart covered at MLB.com, their options include giving super-sub Marwin Gonzalez more reps at first base, as well as awarding playing time to J.D. Davis, A.J. Reed or Tyler White depending on who has the best spring.
Should the Astros decide they'd rather get help from outside the organization, however, there's Justin Bour.
With an .835 career OPS and 64 homers to his name, Bour is one of the last good players remaining on the Miami Marlins. The 29-year-old would be a perfectly capable stand-in for Gurriel in the short run. In the long run, his ability to mash right-handers (.864 OPS) would make him an ideal platoon partner for Gurriel at first and for Evan Gattis at designated hitter. 
Even though he's controlled through 2020, it shouldn't require more than spare parts to acquire Bour. The Astros have plenty of those, including all three of the players jockeying for playing time in Gurriel's absence.
Dan Straily to the Minnesota Twins
2 of 5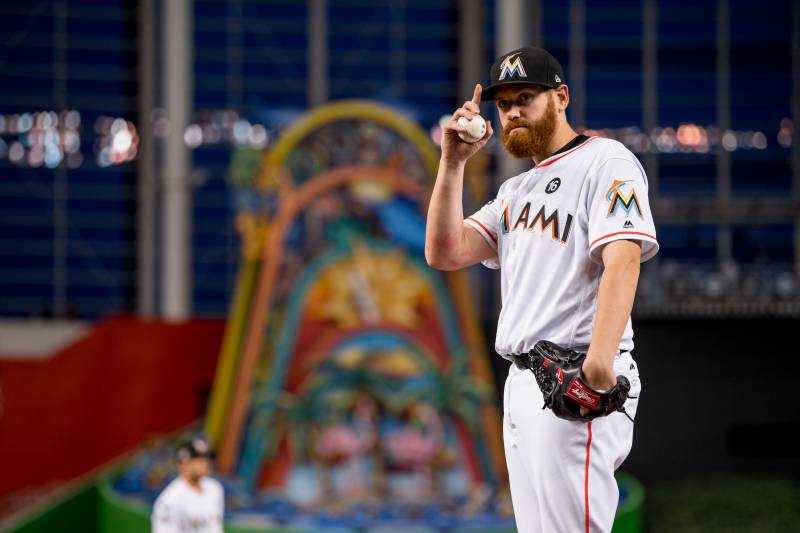 Rob Foldy/Miami Marlins/Getty Images
While Ervin Santana is out, it's up to Jose Berrios, Jake Odorizzi and Kyle Gibson to hold down the front three slots in the Minnesota Twins' starting rotation.
That shouldn't be a problem. What is a problem, on the other hand, is that the lack of good options for the final two slots is becoming more painfully obvious by the day. The top three contenders (Adalberto Mejia, Phil Hughes and Anibal Sanchez) are all having rough springs.
Unsurprisingly, a rival scout told Mike Berardino of the St. Paul Pioneer-Press that the Twins are "still looking for another starter." That might entail signing Jake Arrieta, Alex Cobb or Lance Lynn, except the team is determined to pluck a starter from the bargain bin.
How about Dan Straily from the trade market?
Like Bour, Straily has the distinction of being a rare good player still standing in Miami. Although nobody will mistake him for an ace, he owns a slightly above-average 104 ERA+ (that's his 4.01 ERA adjusted for his ballpark and opponents) over 373.0 innings since 2016. Despite his less-than-electric stuff, he's also pretty good at avoiding contact.
The Twins should be able to pry Straily, who's 29 and under club control through 2020, from Miami without surrendering any of their best prospects. If they can do that, they stand to gain exactly the kind of solid innings-eater their rotation needs.
Alex Colome to the Los Angeles Angels
3 of 5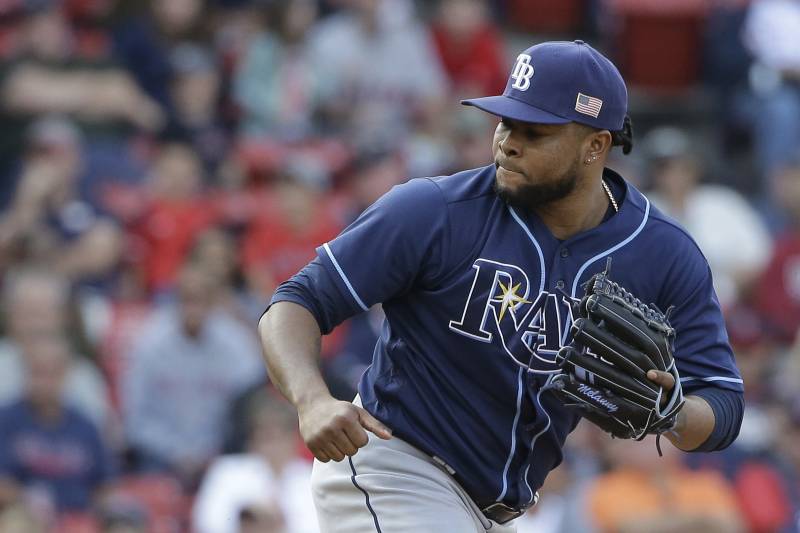 Steven Senne/Associated Press
With trades of Evan Longoria, Steven Souza Jr., Jake Odorizzi, Corey Dickerson and Brad Boxberger, the Tampa Bay Rays have made it clear they're open for business. 
Chris Archer is the best trade chip the Rays have left, but Jon Heyman of FanRag Sports heard there's "no way" they'll be moving him. If so, the title of "Best Player the Rays Could Trade Next" passes to right-handed relief ace Alex Colome.
He didn't have that great of a year in 2017, but it's comforting that he didn't lose any of the electric stuff that earned him a 1.91 ERA and an All-Star nod in 2016. And since he's 29 and not due for free agency until after 2020, he comes with a solid mix of youth and controllability.
The St. Louis Cardinals have often been linked to Colome in the rumor mill. But since they seem content to move forward with what they have in their bullpen, his trade market is open for dark horses.
The Los Angeles Angels fit the bill.
They upgraded both their rotation and their lineup when they signed Shohei Ohtani, and they also got additional upgrades for the latter by adding Zack Cozart and Ian Kinsler. Simply by making these moves, they've made themselves a lot better.
They haven't done as much to address their bullpen, however. In light of how much Blake Parker is struggling (13.50 ERA in three appearances) to sustain as the de facto closer this spring, that looks like a potential problem that a trade for Colome could solve.
Domingo Santana to the Colorado Rockies
4 of 5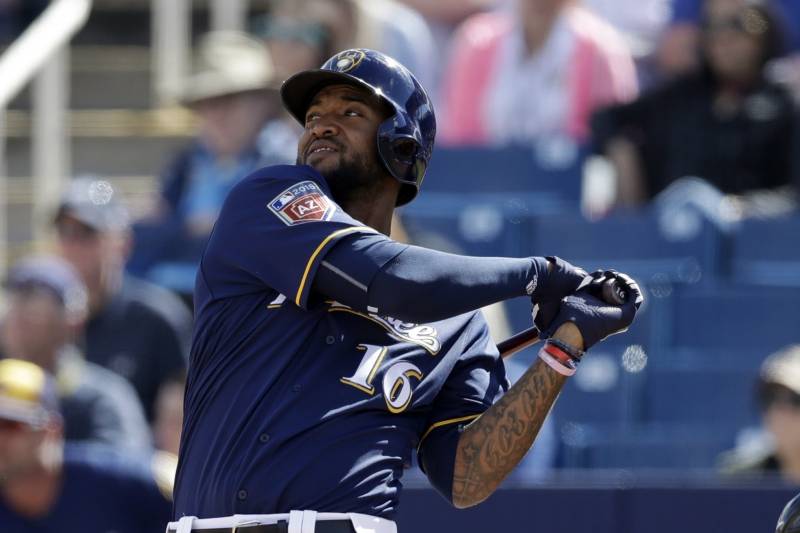 Carlos Osorio/Associated Press
This may sound like a dispatch from Bizarro World, but here goes: You should be excited about and/or afraid of the Colorado Rockies because of their pitching.
Jon Gray is at the forefront of one of the best collections of young starters in the National League. The club's bullpen is expensive but also very good. Newcomer Wade Davis will be an upgrade over Greg Holland, and he'll be joined by the likes of Jake McGee, Bryan Shaw, Adam Ottavino and Chris Rusin.
Ironically, it's offense that the Rockies may not have enough of. Particularly in right field, where FanGraphs projects them to produce fewer wins above replacement than any team except the blatantly woeful Marlins.
Sounds like an excuse to trade for Domingo Santana.
Although the Milwaukee Brewers are telling anyone who'll listen that they have a plan for Santana, he's clearly the odd man out in an outfield headlined by Ryan Braun, Christian Yelich and Lorenzo Cain. Rather than use him as a platoon player, arguably the best thing they can do is cash in his trade value.
Because he's coming off a 30-homer breakout in 2017 and is still just 25 years old and controlled through 2021, said value certainly isn't low. But it shouldn't be too much for the Rockies, who could entice the Brewers with one of their MLB or MLB-ready starters.
J.T. Realmuto to the Boston Red Sox
5 of 5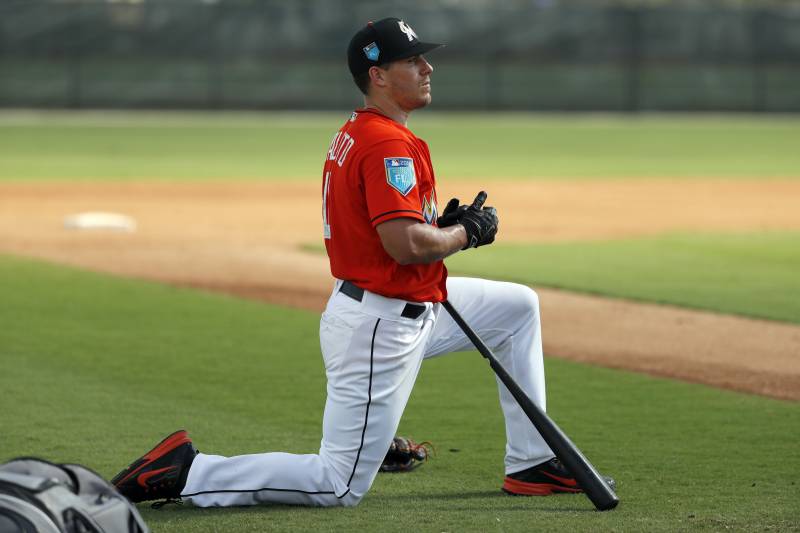 Jeff Roberson/Associated Press
The Boston Red Sox finally sewed up an agreement with J.D. Martinez on February 26. Once they did, they likely brought an end to their offseason shopping.
But the Red Sox are in the hands of Dave Dombrowski, who's not one to shy away when an opportunity for a blockbuster presents itself. So, maybe there's a sliver of a chance that J.T. Realmuto is his next target.
The 26-year-old is the best catcher and perhaps the best player of any kind still available on the trade market. Between his steady bat, good speed and ever-improving catching skills, he has what he needs to be one of the best all-around catchers in the sport.
The Red Sox don't necessarily need a catcher. If anything, they need fewer catchers. Christian Vazquez and Sandy Leon figure to get the bulk of the duties in 2018, but former top prospect Blake Swihart is making a serious bid to be on the roster as a third option.
However, this trio is more about depth than it is about talent. That would be just fine for most teams, but it's something that could hold the Red Sox back in what should be a brutal battle with the New York Yankees for AL East supremacy in 2018 and beyond.
Adding a player like Realmuto would change that. And while doing the deal would mean giving up more pieces from a farm system that's already sacrificed plenty in recent years, anything that boosts Boston's World Series chances should be fair game at this point.
Spring stats courtesy of MLB.com. Other stats courtesy of Baseball Reference and FanGraphs.