---
---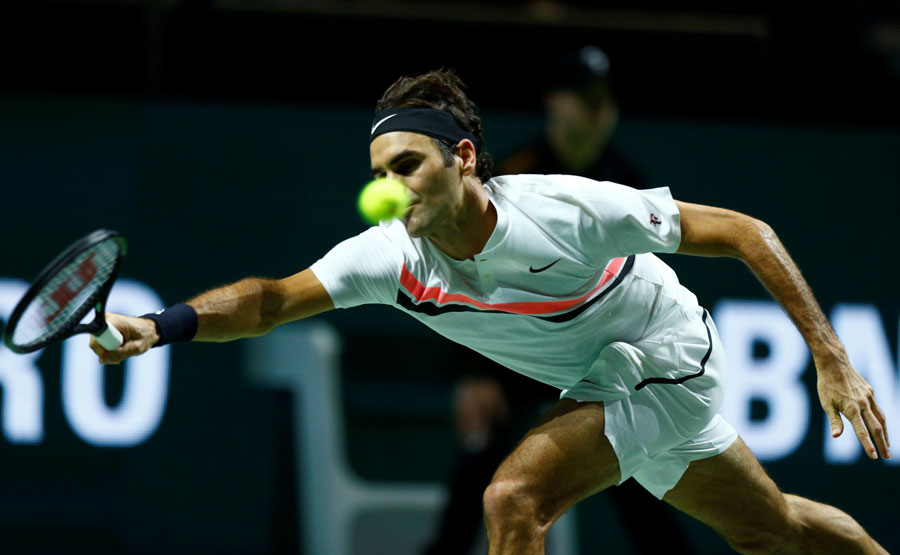 Exhibition match raises millions to help educate kids in Africa
SAN JOSE, California-From his knees at the middle of the net, Roger Federer struck volley after volley right back at Jack Sock on Monday night until the American star finally faltered.
Federer just smiled. The doubles match, in which he was teamed with billionaire Bill Gates, was all in fun.
And how could the Swiss maestro not be loving life? He's the best in the world at age 36.
That even sounds a bit strange to Federer himself.
"These are definitely special times in my life and my career," Federer said.
"My dream as a little boy was to make it one day to world No 1, but not at 36 years old, I can tell you that. It was probably at some point around 25 maybe, if things went really well.
"I had a tough year in 2016 with my knee injury, but I stayed positive, was resilient and fought to come back and really believed I could actually win again.
"I didn't think it was going to be at this level. It's been an unbelievable journey the last 14 months and my team has been incredible. I'm loving every moment that I can still stay on tour because you never know when it's going to end."
While the doubles match didn't officially count, it sure mattered to children in Africa, who Federer is committed to helping through his foundation.
Federer emerged from a tunnel of smoke and walked onto the court greeted by roars and thousands of camera phones held high for the first Bay Area appearance of his career.
He waved, held his racket in the air and beamed when introduced during warmups with the announcement at the sold-out SAP Center that he had regained the No 1 world ranking.
"To stand right here as world No 1 in San Jose is very, very special for me," Federer said.
He entertained from the start, too, praising Microsoft founder Gates as a perfect playing partner.
"He knows numbers very well. He never makes mistakes on the scores," Federer cracked.
"I do the running and Bill does the thinking."
He joked to Sock's playing partner, Savannah Guthrie of NBC's Today show: "You have to start looking at the ball and stop looking at me."
Federer called off Gates with, "That's mine ... that's mine, too," before Sock lobbed a winner over Gates that Federer couldn't chase down.
Federer's Match for Africa exhibition sold more than 15,000 tickets to benefit his foundation that supports education for children in Africa. At the end of the night, the foundation had raised another $2.5 million.
Federer and Gates also teamed up last year in Seattle.
After the doubles, the 25-year-old Sock-ranked 10th in the world-pushed Federer to an 11-9 tiebreaker in the first set before dropping the second set 6-4.
At one point in the opening set, Sock showed his respect by overturning a fault call. He walked toward the service line, pointed that it was an ace and went to the changeover.
"This match for Africa is something extraordinary," Sock said, adding: "Don't hit the ball to Roger ... I'm winless against him for my career."
A video promoting the match featured Federer training the 62-year-old Gates, from weightlifting-lunges with a heavy bar over his shoulders-to studying a tennis book and both ping pong and tennis practice to work on his reflexes and skills.
"You'll train like I do," Federer said. "You are ready."
And Gates, dressed in a bright pink polo shirt, drew oohs and aahs as he impressed with his shot-making and hustle to keep points alive.
"I think I'm good at picking partners," Gates said after he and Federer won 6-3.
AP