Ahead of his 100th NRL: game in charge of the Raiders, Ricky Stuart casts his eye over the season ahead.
---
---
Canberra Raiders coach Ricky Stuart looks at big issues ahead of NRL campaign
By David PolkinghorneUpdated9 March 2018 — 8:06pmfirst published 28 February 2018 — 10:54am
Normal text sizeLarger text sizeVery large text size
Q: Increasing your depth has been a focus, how big a difference can it make?
I feel it has made a big difference to the performance of a number of individuals during our off season preparation. There is no bigger motivator in knowing someone is after your position.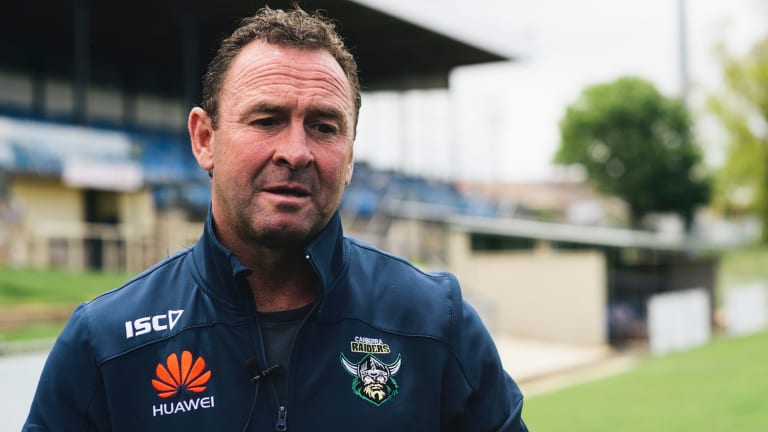 Josh's knee injury was obviously a blow, are you confident you can cover him?
Time will tell. Siliva Havilli and Craig Garvey have worked extremely hard in their role since being here.
Siliva is getting first crack this weekend, but both boys have made a real concentrated effort towards establishing an NRL career here since this opportunity has become available for them.
I could not have asked too much more from what they have so far contributed.
How is Josh tracking for a return this season?
He is a pro, he hasn't missed a day of rehabilitation on his knee, helping Siliva and Craig with some very influential advice and coaching as young players filling a very important position on the field.
We have all made an agreement that it's the whole team's responsibility to help cover the loss of Josh, it doesn't just impact on these two players.
What roles will Sam, Blake and Aidan play this year and how do you see that transforming the team?
When you are talking about making "team first decisions" some players can talk it, others action it.
I have Aidan who is actioning this at the moment in sacrificing his personal game to fill in at hooker when required.
When I first spoke with Aidan about this he immediately bought into it. It's a sacrifice for his teammates.
We don't know how long this will be the option we go with, but everyone thought he was best suited as he can play in the halves and transition into hooker because he is a tough defender and handles the skill of playing out of dummy half.
How does the team get better this year and what's the biggest challenge you're facing?
Two main areas of our football need to be improved which is minimising our lack of patience and unforced errors with the football. If we are successful in this area it will go a long way in helping our defence.
You're known as a potent attack, with defence a focus of the pre-season. How important is finding that balance?
It doesn't matter how potent you are in attack if we are not controlling the football and having a satisfactory completion rate.
The only way to balance out defence and attack is to control possession so you are not having to make a significant more amount of defensive efforts than your opposition.
How have the Samoan boys responded and what do you think they'll produce in 2018?
From a body composition and weight point of view very good. They have all achieved the benchmarks we set for them, some of which are personal bests.
He's spent a bit of time with Mal in the off-season, what are your thoughts on Jarrod's captaincy?
It is about what type of legacy Jarrod wants to leave on the club as a captain.
We have made a real emphasis on supporting Jarrod in his development and maturity as our leader. It is a very challenging position and it comes with a lot of responsibilities that people don't see or hear about it.
It's a fabulous benefit having Mal around to lend his support and advice for Jarrod while he is making his mark as our 12th captain of the Raiders.
It is a respected position and privilege to be a captain of this club. I am very pleased with the integrity Jarrod holds and respect he has for his position as captain.
There's a few players off contract this season. What are your plans with them?
I don't enjoy talking about contracts publicly. The important thing is each of those boys know I what I am thinking.
Where's international rugby league's place within the NRL?
Winning a grand final and international selection is the pinnacle of a player's career. I am an advocate for representative football.
It just concerns me on how we can come to a decision and tolerate promoters making up ridiculous scheduling for games mid-season, flying 18 hours over to the other side of the world, jump back on a plane that night after they play for another 18 hour flight, then have the audacity to tell the NRL clubs that they have the best interests of the players' physical welfare in mind.
How those players are meant to then back up in two, three, four or five days' time is treating the player unfairly and putting them at risk of injury.
Who should be the next Immortal(s)?
Mal Meninga
Loading
Despite the challenges, you've seemed relaxed this summer. What do you put that down to?
Glad you have noticed David, to be honest mate there is no fun when there is no challenge.
Comments disabled

David Polkinghorne
David Polkinghorne is a sports reporter at The Canberra Times.
Morning & Afternoon Newsletter
Delivered Mon–Fri.
Email address
By signing up you accept our privacy policy and conditions of use