A man drunkenly fired shots at a mosque after the Paris terror attacks, then tried to make amends.
---
---
Media player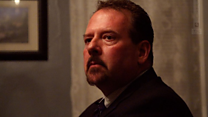 Media playback is unsupported on your device
He shot at a mosque - and his life changed
Angered by the Paris terror attacks in 2015, a former US Marine fired dozens of shots at a mosque near his Connecticut home.
Filled with regret, he tried to make amends.
Video by Hannah Long-Higgins and Olivia Lace-Evans
He shot at a mosque - and his life changed
8mth