A dog died on a United Airlines flight on Monday, after the owner was told to place it in the overhead bin.
---
---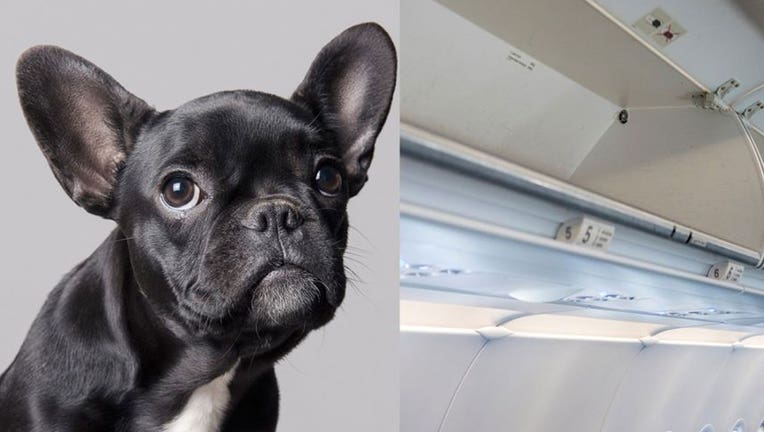 article
A French bulldog (similar to this one) died after its owner was allegedly forced to put the carrier with the dog in an overhead bin by a United Airlines attendant. (istock)
A small dog died during a United Airlines flight from Houston to New York on Monday, after an attendant told its owner to place the pooch in an overhead bin.
"This was a tragic accident that should never have occurred, as pets should never be placed in the overhead bin," a United spokesman said. "We assume full responsibility for this tragedy and express our deepest condolences to the family and are committed to supporting them."
The owner found the animal dead at the conclusion of the 3-1/2 hour flight.
Passenger Maggie Gremminger tweeted her reaction.
United led U.S. carriers with 18 animal deaths in 2017, a Department of Transportation report says.
Monday's dog death was just the latest in a string of controversies for the airline – which has been struggling to regain passenger confidence since April, when a traveler was forcibly removed from a jet at Chicago's O'Hare International Airport.
The incident involving passenger Dr. David Dao had lawmakers calling for a hearing on the airline industry's treatment of passengers.
Later that month, United was the target of ire on social media after a large rabbit traveling in the cargo hold died on a flight from Britain to the U.S.
In August, a Houston family blamed United for the death of their 5-year-old King Charles spaniel. The dog was in the cargo hold of a flight that was held on the tarmac for two hours before taking off for San Francisco.
Shares of United Continental Holdings closed yesterday's trading at $72.60. Shares were trimmed by $0.10 in after-hours trading to $72.50.
Over the past year, shares of the airline have traded between a low of $56.51 and a high of $83.04.
Other airlines also have come under scrutiny in recent months, as carriers have tightened rules involving the transport of animals, especially those used for emotional support.
The Associated Press and Dow Jones contributed to this article.
Dog dies on United flight after flight attendant tells owner to place it in overhead bin
8d
United dog death on flight is latest black eye for carrier
7d