Shock prospect of Donald Trump meeting Kim Jong-un raises hopes of a more stable global economy.
---
---
Trump and N Korea talks: Asia markets rally on peace hopes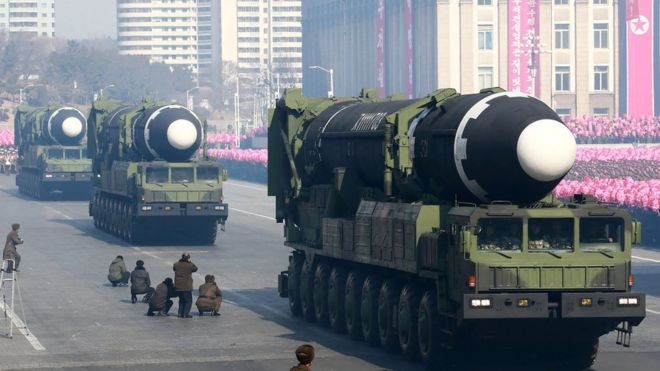 Asian markets rallied on Friday, on hopes that North Korean nuclear tensions might be easing.
Investors responded to
There was already some optimism on the markets after Mr Trump earlier
South Korea and Japan's main markets began well but later shed some gains.
Seoul's Kospi index finished 1.1% ahead.
Meanwhile Japan's Nikkei 225 index - which initially rose by 2.5% - closed only 0.5% higher.
A sigh of relief is no surprise
Analysis by Karishma Vaswani, Asia Business Correspondent
Investors in the region have been watching the potential conflict between the US and North Korea for months now.
And news that the two could meet by May of this year is being greeted with a sigh of relief by many. And that shouldn't come as a surprise.
Nobody wants a conflict on the Korean peninsula to break out, especially between arguably two of the world's most volatile leaders.
East Asian economies would be almost certainly be hit, . It's a region central to global shipping and manufacturing, so any escalation of the current tensions could disrupt trade and economic activity.
But perhaps what's more interesting, is what a potential meeting between "Rocket Man" and the "Dotard" says about just how badly the North Korean economy may be doing as sanctions bite.
Read more from Karishma:
Hong Kong's Hang Seng ended 1.1% higher, while China's mainland indexes also made small gains.
The South Korean won climbed slightly, while the Japanese yen slipped against the US dollar.
That is not unexpected given the yen is a safe haven currency, with investors tending to seek out riskier assets with better returns when things appear more stable.