Some tricks worked wonders, and others left us in tears (literally).
---
---

Nicole Ench / BuzzFeed
Hey! We're Hannah and Jesse — and like most people, this is what we look like when we cut onions: 😭
Taylor Miller / BuzzFeed
So, in an attempt to make cutting them less of a chore, we decided to test 10 popular hacks that claim to prevent crying. Then we ranked them on a scale of one to five (one being the least painful, and five being instant tears).
Before getting started, we decided to torture ourselves in the name of science and identify which onion variety we should use — aka which one made us cry the most.
Taylor Miller / BuzzFeed
Here's how they ranked:
1. Yellow onions: Instant tears. Like watching that heart-wrenching movie where the dog waits at the train station for his owner — or taking out your contacts after cutting a jalapeño.
2. Sweet onions: These hurt too. (More like watching The Notebook, though.) We definitely cried, but not as bad.
3. White onions: These weren't very painful. Just made us a little teary-eyed.
4. Shallots: Eh, barely any tears — watery eyes at most.
5. Red onions: This was nothing. We could literally bite into an entire red onion and still not cry.
6. Garlic: I guess we should have known this wouldn't hurt, considering it's not even an onion — but we needed to know!
Advertisement
Yellow onions it is! With that out of the way, here are the hacks and how they stacked up:
HACK #1: Chew gum.
Taylor Miller / BuzzFeed
It's supposed to diffuse the odors that make you cry and force you to breathe through your mouth — so the onion ~irritants~ don't hit your nose.
Jesse: The only thing this did was make my mouth taste like minty onions, which was not great. It was like spraying Febreze over hot garbage — it just mixes with the smell and makes everything worse. It still made me cry, just with fresher breath.
Sob scale: 😭😭😭😭 (4/5)
Hannah: This honestly helped a bit. The taste of minty gum was pretty odd against the smell of pungent onions, but it distracted me a bit from the oniony smell.
Sob scale: 😭😭😭 (3/5)
HACK #2: Cut a lemon in half and rub it on your knife first.
Taylor Miller / BuzzFeed
Jesse: This really seemed to work. I didn't get too teary-eyed, and the onion aroma wasn't strong at all. My eyes did water (just the tiniest bit!), but nothing major. The only downside is that you have to keep reapplying the lemon juice as you cut.
Sob scale: 😭😭 (2/5)
Hannah: This was surprisingly really effective. Maybe it was the fresh smell of citrus that minimized the onion stench, but I was able to chop a whole onion without shedding a tear.
Sob scale: 😭😭 (2/5)
HACK #3: Put bread in your mouth while cutting.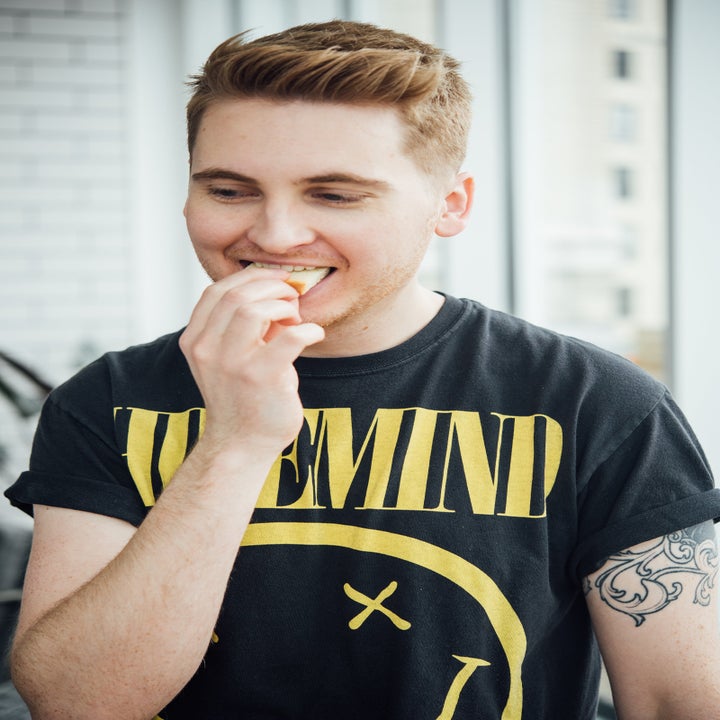 Taylor Miller / BuzzFeed
The bread is supposed to absorb the sulfuric compounds before they can reach your eyes.
Jesse: You know when you get an X-ray at the dentist and you're gagging on that tool they make you bite down on? Well, this kinda felt like that — and it didn't make cutting the onions hurt any less!
Sob scale: 😭😭😭😭😭 (5/5)
Hannah: WHAT IS WRONG WITH ME!? I felt like a sobbing baby as I tried this hack. It also felt a bit like torture because I couldn't open my mouth as I cried without spitting out the soggy bread. The one benefit is that at least I got to eat some carbs while enduring the torture of slicing onions.
Sob scale: 😭😭😭😭😭 (5/5)
Advertisement
HACK #4: Microwave the onion at 50% power first, until the internal temperature reaches 158°F.
Taylor Miller / BuzzFeed
158°F = the temperature at which the "enzymes in the onion start to denature." (Or, ya know, ~science~.)
Jesse: This. Was. Bad. Not only did the onion hurt 100x more when cutting it, but it was hot and slimy. NOBODY WANTS TO CUT A HOT ONION. Both my eyes and my hands were offended by this so-called hack.
Sob scale: 😭😭😭😭😭 (5/5)
Hannah: This was just weird. The warm onion smell was pretty gross and I hope I never experience it again, even though it wasn't necessarily as tear-inducing as normal onion smell. On the bright side, it was weirdly therapeutic and satisfying to cut into a mushy onion and you should try it sometime.
Sob scale: 😭😭😭 (3/5)
HACK #5: Refrigerate the onion for 30 minutes before cutting them.
Taylor Miller / BuzzFeed
This is supposed to reduce "the tendency for the sulfur compounds to volatize." (Translation: Stop the onion funk from hitting your eyes.)
Jesse: OK, I think this did help — but just a little bit. The smell seemed to be toned down a bit, but my eyes still teared up. It didn't completely remove the onion burn, but it helped.
Sob scale: 😭😭😭 (3/5)
Hannah: I guess this worked a little bit. My eyes still started watering a bit as I was finishing up dicing the onion, but it was nothing terrible.
Sob scale: 😭😭 (2/5)
HACK #6: Or just push it all the way and stick onions in the freezer for 30 minutes.
Taylor Miller / BuzzFeed
Jesse: I think we're on to something with chilling the onions. I could barely smell it and I didn't shed a single tear. I'm shocked at how well this worked, TBH. The only downside is that the outer layer of onion freezes a bit.
Sob scale: 😭 (1/5)
Hannah: Ooooh, this was smart! I was never great at science (hence why I'm a writer), so I can't begin to explain to you why freezing an onion made the smell less repulsive, but it did! I was able to look right at that poor little onion and dice it to pieces without shedding a tear. Also, the frozen skin was really fun to peel off, FYI.
Sob scale: 😭 (1/5)
HACK #7: Cut onions near an open flame — like a candle or a burner.
Taylor Miller / BuzzFeed
This is apparently one of Martha Stewart's go-to tricks.
Jesse: While I did enjoy the tranquil ambiance this created, I don't think it helped all that much. I cried, and not because the Martha Stewart candle was so damn perfect, but because the onions hurt my eyes! I don't think this does much.
Sob scale: 😭😭😭😭 (4/5)
Hannah: At first, I thought that Martha had called upon the onion gods to help me in this time of onion-cutting distress because I didn't feel a thing at first. Then as I continued dicing the onion, I realized that not even Martha could save me here. I was crying like a baby. But at least the ambiance was nice.
Sob scale: 😭😭😭😭 (4/5)
Advertisement
HACK #8: Cut onions under running water.
Taylor Miller / BuzzFeed
This is supposed to prevent the sulfuric compounds from reaching your eyes.
Jesse: This actually seemed to completely get rid of both the burn and the smell — as if it went right down the drain. The only downside is that you end up with wet onions — so there's that...
Sob scale: 😭 (1/5)
Hannah: Again, can't totally explain the science behind this, but it worked really well. It was almost as if the water created a barrier between the onion and my nose. I almost couldn't smell a thing.
Sob scale: 😭 (1/5)
HACK #9: Just say screw it and cut them completely UNDER water.
Taylor Miller / BuzzFeed
Jesse: OK, so this completely got rid of the burn and the smell, but it was STUPID. Besides the fact that you literally have to make an underwater cutting station, once you do cut the onions, they float to the top of the water!
Sob scale: 😭 (1/5 — but don't do it!)
Hannah: Sure, this worked — but it was such a pain. NOT worth it.
Sob scale: 😭 (1/5)
HACK #10: Give up on looking good/getting laid tonight and wear a pair of actual onion goggles. ¯\_(ツ)_/¯
Taylor Miller / BuzzFeed
Jesse: Besides instantly turning into a terrifying version of myself (aka Jesse Fieri), these glasses actually did help. They have this foam insulation on the inside that really protects your eyes from the air. I didn't feel anything at all (kind of like when I used to wear contacts when I cut onions), so if you're cool looking like a total weirdo for a few minutes, by all means, try these.
Sob scale: 😭 (1/5)
Hannah: Aside from the fact that these goggles made me look like a serial killer, they worked like a charm. I will most likely be keeping them to dice onions and also to scare my boyfriend.
Sob scale: 😭 (1/5)
Get a pair on Amazon for $10.66.
TL;DR: It seems like there are three things you can do to make cutting onions suck significantly less:
1) Chill them — either in the fridge or the freezer — before cutting them. 🔪
2) Cut them under running water. 💧
3) Swallow your pride and buy a pair of onion goggles — who's judging? 🤓
Have any special tricks that make cutting onions suck less? Let us know in the comments!
Promoted by
Get all the best Tasty recipes in your inbox! Sign up for the Tasty newsletter today!
Sign up
Great!
You're almost there! Check your inbox and confirm your subscription now!
View Comments