Experts say that North Korea still has its nuclear weapons and that the president is rushing by declaring a victory.
---
---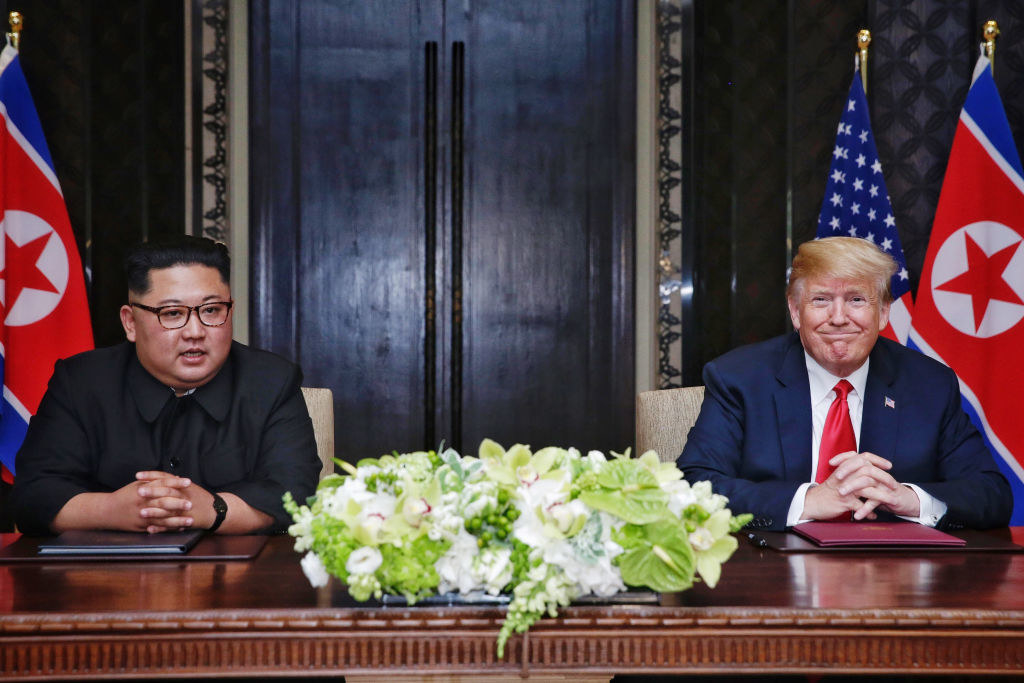 President Donald Trump said Wednesday morning that there is "no longer a nuclear threat" from North Korea, prompting outrage from experts who point to a lack of evidence.

A day after meeting with Kim Jong Un at a historic summit in Singapore, the president tweeted that "everybody can now feel much safer than the day I took office."

Just landed - a long trip, but everybody can now feel much safer than the day I took office. There is no longer a Nuclear Threat from North Korea. Meeting with Kim Jong Un was an interesting and very positive experience. North Korea has great potential for the future!
09:56 AM - 13 Jun 2018
Reply Retweet Favorite
He added that his predecesor, Barack Obama, had viewed North Korea as America's "most dangerous problem," but that this is no longer the case.
Advertisement

Before taking office people were assuming that we were going to War with North Korea. President Obama said that North Korea was our biggest and most dangerous problem. No longer - sleep well tonight!
10:01 AM - 13 Jun 2018
Reply Retweet Favorite
Trump later accused the media of "downplaying" his deal with North Korea and called fake news "our country's biggest enemy." He said that the media would have "begged" for this deal 500 days ago.

So funny to watch the Fake News, especially NBC and CNN. They are fighting hard to downplay the deal with North Korea. 500 days ago they would have "begged" for this deal-looked like war would break out. Our Country's biggest enemy is the Fake News so easily promulgated by fools!
01:30 PM - 13 Jun 2018
Reply Retweet Favorite
Trump and Kim signed a document agreeing to establish new relations for "peace and prosperity" between the US and North Korea on Tuesday. As part of the agreement, North Korea committed to "work toward complete denuclearization" of the Korean Peninsula — a pledge Kim had already made at an earlier summit with South Korea.

Trump told reporters in a brief exchange after the signing that the process of denuclearization would start "very, very quickly."
On Wednesday, Trump tweeted he believes North Korea is "negotiating in good faith."
His claim suggests an end to more than 70 years of hostilities between the two countries over nuclear weapons. North Korea has carried out six nuclear tests since its first in 2006, five years before Kim succeeded his father as leader, culminating in what is understood to be its largest ever in September. As recently as January, Trump and Kim were threatening each other with nuclear war.

Experts and commentators reacted furiously to Trump's latest tweets.

Abraham Denmark, director of the Asia Program at the Woodrow Wilson International Center for Scholars research institute, pointed out that North Korea still has its nuclear weapons and potentially the power to strike the US and its allies.
Advertisement
Let's be clear. North Korea represents the same threat today as it did before the summit. NK retains its nuclear weapons, and the ability to (possibly) strike the United States and (definitely) our allies. We still have a very long way to go. https://t.co/la2QzZuoZl
10:20 AM - 13 Jun 2018
Reply Retweet Favorite
Susan Rice, who served as President Barack Obama's national security adviser and US ambassador to the UN, called the tweet "preposterous" on radio.
On the president's claim that "there is no longer a Nuclear Threat" from NK, @AmbassadorRice says the threat is "real and present, and unabated," and Trump's "preposterous" claim suggests "he's not in a position to lead... a very serious long term negotiation." @MorningEdition
11:34 AM - 13 Jun 2018
Reply Retweet Favorite
And Richard Haas, the president of the Council on Foreign Relations, called the claim "patently false."
.@realDonaldTrump claim there is no longer a NK nuclear threat patently false. The summit changed nothing. Worse yet, overselling the summit makes it harder to keep sanctions in place, further reducing pressure on NK to reduce (much less give up) its nuclear weapons and missiles
11:38 AM - 13 Jun 2018
Reply Retweet Favorite
Some reporters pointed out that Tuesday's summit did not result in a finalized deal, and that there is long way to go before that became a reality.

North Korea hasn't given up its nukes yet, and the two countries haven't come close to finalizing a deal, which Trump has committed he would send to the Senate for a vote for approval. But Trump says, "There is no longer a Nuclear Threat from North Korea." https://t.co/VwDfeLSNTP
11:31 AM - 13 Jun 2018
Reply Retweet Favorite
Others suggested that Trump's drive to "pocket" a victory after the summit means that he will be reluctant to keep tabs on the realities behind Pyongyang's nuclear program.

This tweet, with its echoes of Bush's "Mission Accomplished," strongly suggests Trump is so eager to pocket victory that he won't insist on robust verification to determine whether the North Korea denuclearization process is actually bearing fruit:https://t.co/fBOVAbsiGC https://t.co/IbsB981ouM
09:59 AM - 13 Jun 2018
Reply Retweet Favorite
Other world leaders exercised far more caution as they responded to the summit.

Japanese Prime Minister Shinzo Abe said he supported the agreement as a "first step" to the "comprehensive resolution" of tensions.

"I want to hear the details by phone (from Trump)," he added. "I will continue aiming to resolve concerns such as the abduction, nuclear and missile issues."
Russia's Deputy Foreign Minister Sergei Ryabkov said "we can only welcome" the news as "an important step forward."

"Of course the devil is in the detail, and we have yet to delve into specifics. But the impulse, as far as we understand, has been given," he said, according to TASS news agency.

Antonio Guterres, the United Nations secretary-general, stressed that implementing the agreement will require "patience and support" from the global community.
South Korea had particular reason for concern after the agreement, since Trump unexpectedly said that he intended to end joint military exercises with South Korea after the summit.
"At this point, we need to find out the precise meaning or intentions of President Trump's remarks," a spokesperson for President Moon Jae-in said.
Trump Said There Is "No Longer A Nuclear Threat" From North Korea With Absolutely No Evidence
6d