A criminal investigation is underway, as nursing home administrators and state officials attempt to assign blame for what went wrong at the Rehabilitation Center at Hollywood Hills.
---
---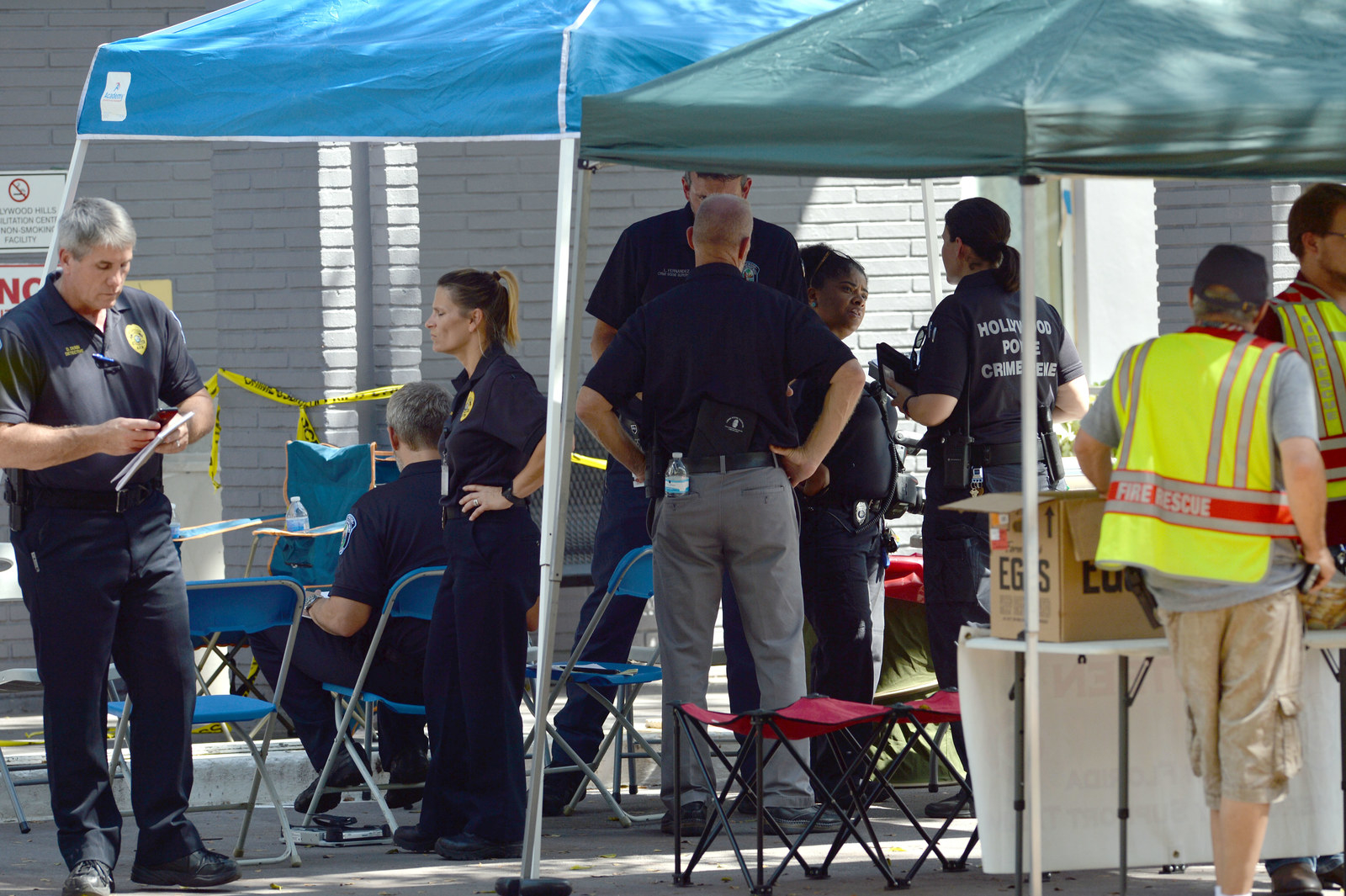 Mpi122 / mpi122/MediaPunch/IPx
Florida officials are investigating the death of a 14th patient who was evacuated from a sweltering nursing home in Hollywood, Florida, in the aftermath of Hurricane Irma.
Police announced on October 9 that Cecilia Franco, 80, and Francesca Adrade, 86, had been confirmed dead, the 13th and 14th Hurricane Irma casualties at the nursing home. Eight of the home's other residents died in the facility or at the hospital following the evacuation in mid-September, and four died in the ensuing weeks.
The deaths have prompted a criminal investigation to determine what went wrong at the The Rehabilitation Center at Hollywood Hills, and a round of recriminations among Florida state officials and nursing home employees over who was to blame for the deteriorating conditions there in the days following Hurricane Irma.

State health regulators permanently suspended the nursing home's operating license on September 21.
In a timeline provided to CBS Miami, the nursing home claimed that staff members called Florida Power & Light and the governor's office multiple times starting on Sept. 10, but did receive help until three days later, when patients were already having medical emergencies.
Natasha Anderson, an executive at Hollywood Hills, told the Washington Post she called the dedicated cell phone for the governor's office starting Monday night and was told that their case was being "escalated to the highest level," but that no help arrived. Anderson told the Post she called the number three times before Wednesday, when emergency responders discovered the dead and ailing residents.
But John Tupps, the director of communications for Gov. Rick Scott, said in a statement Friday that the Rehabilitation Center at Hollywood Hills never indicated over the phone that conditions had become dangerous, and argued caretakers could have called 911 sooner.
The calls to the governor's office were also rerouted to two state agencies for assistance, he added.
"Every call made to the governor from facility management was referred to the Agency for Health Care Administration and the Florida Department of Health, and quickly returned," Tupps said.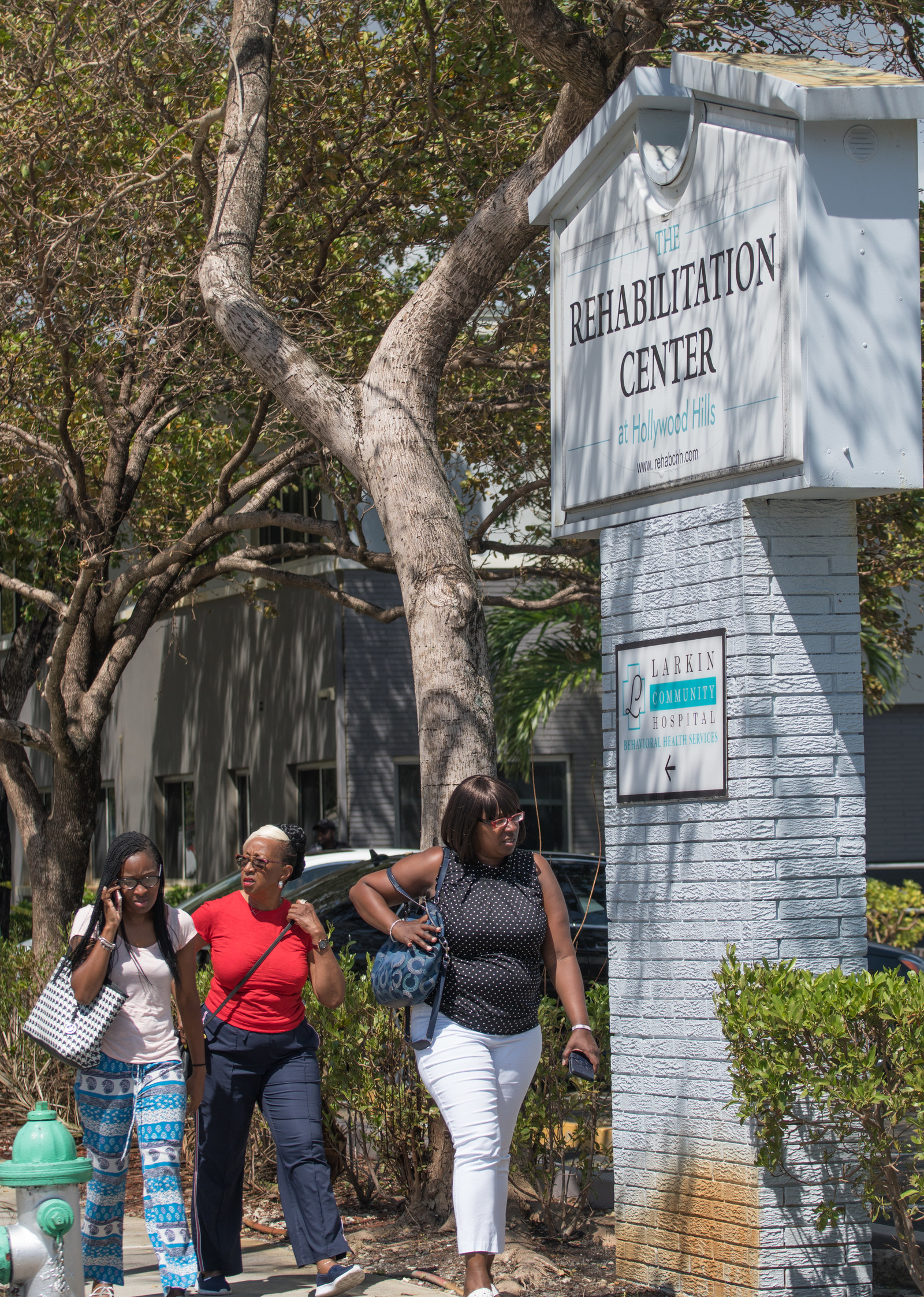 Angel Valentin / Getty Images
Three women who said they were employees of the rehabilitation center.
The health agency also noted in a statement that the nursing home, which maintained power but lost its air conditioning during the storm, was located across the street from a hospital that was fully functional throughout Irma.
Attempts to reach nursing home staff or executives were not successful.
Firefighters initially arrived to the Rehabilitation Center at Hollywood Hills early Wednesday to transport a patient reportedly suffering from cardiac arrest. But they were called back again a short time later, and on the third call, emergency responders discovered three bodies upstairs in "extremely hot" temperatures, police said. Five others died at the hospital.
Officers ordered an evacuation of the building and 158 patients were taken to nearby hospitals and a criminal investigation was launched.

Those evacuated were treated for dehydration, heat exhaustion, and respiratory conditions, Randy Katz, the medical director of Memorial Regional Hospital said.
"This is very tragic and very sad," police chief Tomas Sanchez said. "Many of us have loved ones in facilities like this. We feel the loss for the families and the shock."
Scott also directed the Agency for Health Care Administration (AHCA) on Wednesday to temporarily shut down the center, concluding it was "an immediate serious danger" to the health, safety, and welfare of the public and its elderly residents.
An investigation into how the tragedy happened remains, and the home's administrator, Jorge Carballo, has said they are cooperating with authorities.

According to the AHCA, on Sept. 10, the nursing home realized the air conditioning had stopped working. Staff then contacted the local electrical provider and situated eight portable air coolers throughout the facility and put fans in the halls. Three days later on Wednesday, several residents suffered respiratory or cardiac arrest, the report stated.
Carballo insisted the center maintained continuous contact with Florida Power & Light for status updates on when repairs would be made and that staff members also reached out to local emergency officials.
He also said in a statement that they had been "diligently prepared" for the hurricane.
ADVERTISEMENT
Hollywood Hills Rehab / Via hollywoodhillsrehab.com
However, the 152-bed nursing home, which according to its website has been in operation for more than 35 years, has a history of issues and officials say they were "not surprised" to receive the 911 calls.
"Fire rescue crews have responded to this facility 127 times over the last 12 months," officials said Wednesday night.
"That's excessive," Hollywood Fire Chief Lt. Christopher Pratt said.
A March 2016 safety inspection appears to show that the facility only had a temporary generator and administrators could not provide details of when they planned to install a permanent generator. The Florida Agency for Healthcare Administration gave the Rehabilitation Center at Hollywood Hills a "below average" rating.
The inspection report also cited the facility for a number of violations, including unsanitary conditions and improper handling of food.
In his statement on Wednesday, the governor said he will "aggressively" demand answers on how the tragedy took place.

"Protecting the lives of Floridians is my top priority, and that's why we have worked all week to help Floridians prepare and respond to Hurricane Irma," Scott said. "Every facility that is charged with caring for patients must take every action and precaution to keep their patients safe — especially patients that are in poor health."
Florida has 4 million senior citizens spread out across 700 facilities statewide, according to the Associated Press. Days after Irma, 150 nursing homes were still operating without full power, Florida Health Care Association director of communications Kristen Knapp said.

Scott also directed the AHCA and the Department of Children and Families to work with law enforcement to investigate the matter.
"If they find that anyone wasn't acting in the best interests of their patients, we will hold them accountable to the fullest extent of the law," he said.
Democratic Sen. Bill Nelson also slammed the facility, calling the situation an "emerging scandal of gargantuan proportions."
Sen Nelson says it's inexcusable for staff at nursing center to not call 911. Calls 8 deaths a scandal of "gargantu… https://t.co/fcUatL6AAv
10:54 PM - 13 Sep 2017
Reply Retweet Favorite
The Broward County medical examiner identified the nursing home victims as Bobby Owens, 84; Manuel Mario Medieta, 96; Miguel Antonio Franco, 92; Estella Hendricks, 71; Gail Nova, 71; Carolyn Eatherly, 78; Betty Hibbard, 84; Albertina Vega, 99; Carlos Canal, 93; Martha Murray, 94; Alice Thomas, 94; Dolores Biamonte, 57; Cecilia Franco, 80; and Francesca Andrade, 85.
The causes of death had yet to be determined, the medical examiner said.

Grace Wyler contributed to this report.
Live Updates: Florida Struggles To Recover After Irma
https://www.buzzfeed.com/buzzfeednews/live-updates-irma-3?s=webapp&utm_term=.nwLdzagLG#.iuazvxL15
Mary Ann Georgantopoulos is a reporter for BuzzFeed News and is based in New York.
Contact Mary Ann Georgantopoulos at maryann.georgantopoulos@buzzfeed.com.
Brianna Sacks is a reporter for BuzzFeed News and is based in Los Angeles.
Contact Brianna Sacks at brianna.sacks@buzzfeed.com.
Blake Montgomery is a reporter for BuzzFeed News and is based in San Francisco.
Contact Blake Montgomery at blake.montgomery@buzzfeed.com.
Got a confidential tip? Submit it here.
Promoted by
News moves fast. Keep up with the BuzzFeed News daily email!
Sign up
Great!
You're almost there! Check your inbox and confirm your subscription now!
View Comments
Live Updates: Sox People Died In A Florida Nursing Home That Lost Power In Hurricane Irma
5mth