Three people died and dozens more were injured in connection with a white supremacist rally in Charlottesville Saturday. Demonstrations took place across the country on Sunday in response to the ev...
---
---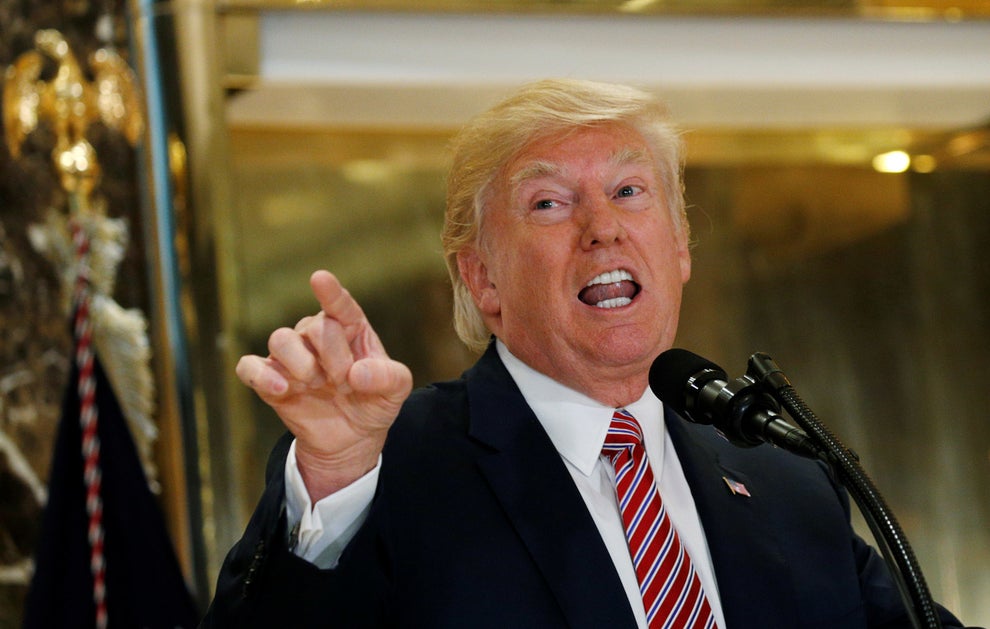 View this image ›
Protesters hold a march against white nationalism outside Trump Tower Sunday. Joe Penney / Reuters
ID: 11619964
Here's what's happening:
A car plowed into a crowd of anti-racist demonstrators in Charlottesville, Virginia, Saturday, killing one person after a white supremacist rally was shut down by police, and wounding at least 19 others.
James Alex Fields Jr., a 20-year-old Ohio resident, has been charged with second-degree murder in connection with the collision. A judge denied him bail during a court appearance Monday. The FBI announced Saturday night that it has opened a civil rights investigation into the deadly car crash.
A state police helicopter also crashed while responding to the protests, killing two officers. Virginia State Police identified the officers as Lieutenant H. Jay Cullen, 48, of Midlothian, Virginia, and Trooper-Pilot Berke M.M. Bates of Quinton, Virginia.
The president's initial statement on Saturday prompted criticism from both Republicans and Democrats, who urged the president to more strongly condemn white supremacist violence.
City officials in Charlottesville and the governor of Virginia declared a state of emergency after white supremacists gathered in the college town for the "Unite the Right" rally, where they chanted racist and homophobic slogans.
Hundreds of counterprotesters were also there, including local interfaith leaders, activists, and self-described anti-fascist protesters.
On Monday, Trump called out White Supremacists, KKK, and Neo-Nazis in statement to the press. "Racism is evil. And those who cause violence in its name are criminals and thugs, including the KKK, Neo-Nazis, White Supremacists and other hate groups that are repugnant to everything we hold dear as Americans.
But on Tuesday, he doubled down on his earlier remarks, defending the group's who organized Saturday's rally, and once again blaming violence on "both sides."
Early on Wednesday morning, Baltimore began removing its confederate statues amid an ongoing storm over Trump's comments on such monuments.
The violence in Charlottesville sparked demonstrations took place around the country Sunday, with liberal protesters marching in Los Angeles, New York, Washington, DC, and other cities.
ID: 11619965
Watch BuzzFeed News' coverage of Saturday's events:
Facebook: video.php
ID: 11619966
Updates
That concludes this Live Updates post. For the new post, click here!
ID: 11642103
After a long silence, Senate Majority Leader Mitch McConnell says, "There are no good neo-Nazis," and doesn't call out Trump by name
View this image ›
Chip Somodevilla / Getty Images
ID: 11641353
Senate Majority Leader Mitch McConnell released a statement on Wednesday condemning hate groups and a planned rally in Lexington, Kentucky.
"The white supremacist, KKK, and neo-nazi groups who brought hatred and violence to Charlottesville are now planning a rally in Lexington. Their messages of hate and bigotry are not welcome in Kentucky and should not be welcome anywhere in America," McConnell said in a statement released on Wednesday.
"We can have no tolerance for an ideology of racial hatred. There are no good neo-nazis, and those who espouse their views are not supporters of American ideals and freedoms. We all have a responsibility to stand against hate and violence, wherever it raises its evil head," he said.
The Republican senator for Kentucky condemned the violence in Charlottesville on Saturday.
ID: 11641394
.@SenateMajLdr: "There are no good neo-nazis"
— Emma Loop (@LoopEmma)
ID: 11641405
— Cora Lewis and Emma Loop
ID: 11641403
The University of Florida denied Richard Spencer's request to host a speaking event on campus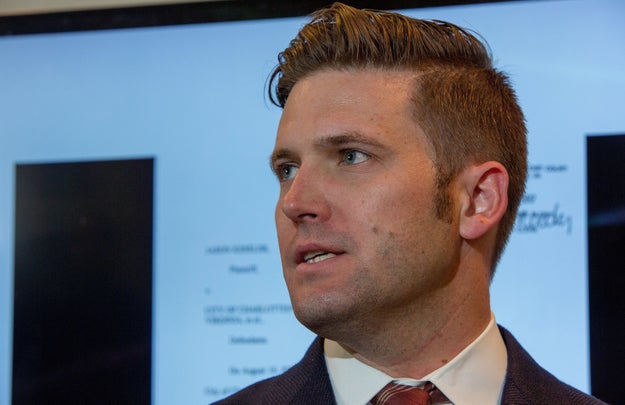 View this image ›
Tasos Katopodis / Getty Images
ID: 11640824
The University of Florida issued a statement on Wednesday morning announcing that Richard Spencer's request to rent event space on campus was denied "amid serious concerns for safety."
Citing the recent violence in Charlottesville, the university's president, Kent Fuchs, said the decision to deny the request was made after assessing potential risks including the online calls for similar violence in Gainesville.
"I find the racist rhetoric of Richard Spencer and white nationalism repugnant and counter to everything the university and this nation stands for," Fuchs said in a statement.
He went on to say that the university remains "unwaveringly dedicated" to free speech but that the "First Amendment does not require a public institution to risk imminent violence to students and others."

—Mary Ann Georgantopoulos
ID: 11640828
Baltimore begins taking down its Confederate monuments overnight
On this morning, my city lurches forward in a way that only happens when the cost of inertia is made clear. Thank y… https://t.co/uPYrcj86bF
— David Simon (@AoDespair)
ID: 11639926
It appears Baltimore isn't wasting any time removing its monuments to the Confederacy.
Just one day after the city council voted to immediately remove four Confederate statues in the city, social media posts showed crews taking the monuments down and carting them away in the middle of the night.
"Mayor Catherine Pugh announced earlier this week that the Confederate monuments would be removed," a spokesperson for the mayor's office told BuzzFeed News. "She decided it was time and ordered it be done overnight."
In the early hours of Wednesday morning, journalists and activists started posting videos of city workers preparing to topple the Robert E. Lee and Thomas. J. "Stonewall" Jackson Monument in Baltimore's Wyman Park Dell.
ID: 11639691
Confederate Monuments coming down tonight; right now. Lee Jackson has caution tape around it. Police here
— brandon soderberg (@notrivia)
ID: 11639749
They're locking the monument in before lift off... #ByeLee #ByeJackson
— Baltimore BLOC (@BmoreBloc)
ID: 11639766
Soon after, videos showed the giant statue of the two Confederate generals on horseback being carted away on the back of a truck.
And here it goes.
— Baynard Woods (@baynardwoods)
ID: 11639861
By the time the statue came down, a small crowd of activists appeared to have gathered to celebrate its removal
— brandon soderberg (@notrivia)
ID: 11639874
Earlier, journalist Baynard Woods tweeted that another Confederate monument had been dismantled
Taney monument gone
— Baynard Woods (@baynardwoods)
ID: 11639884
Though not a direct homage to the Confederacy, the monument commemorated Supreme Court Justice Roger B. Taney, author of the infamous Dred Scott decision, which upheld unrestricted slave ownership, preventing slaves and emancipated blacks from becoming US citizens.
"Somewhere in the great eternal ether, Dred Scott is sitting with a scotch and cigar," David Simon, creator of the HBO series The Wire, tweeted, responding to the Taney statue's removal.
Two other statues — the Confederate Soldiers and Sailors monument, in Baltimore's Mount Royal neighborhood, and the Confederate Women's Monument in Bishop Square Park — were also removed.
The removals come as several cities hasten to dismantle their Confederate monuments in the wake of the violent white supremacist rallies in Charlottesville, Virginia, last weekend. The demonstrations, organized to protest the city's removal of a Confederate statue, resulted in the deaths of three people, including a young woman who was killed when an alleged white supremacist drove his car into a crowd of liberal activists.
Since then, elected officials in Lexington, Kentucky, and Gainesville, Florida, have announced plans to remove local Confederate statues. In Birmingham, Alabama, where state law prevents the removal of these monuments, city officials have veiled them from sight. And in Durham, North Carolina, protesters took it upon themselves Monday to topple a Confederate statue during a demonstration.
On Tuesday, President Donald Trump forcefully defended Confederate monuments, as well as the groups that have mobilized, often violently to prevent their removal.
—Grace Wyler
ID: 11639929
Trump's angry defense of white supremacists Tuesday sent members of his own party reeling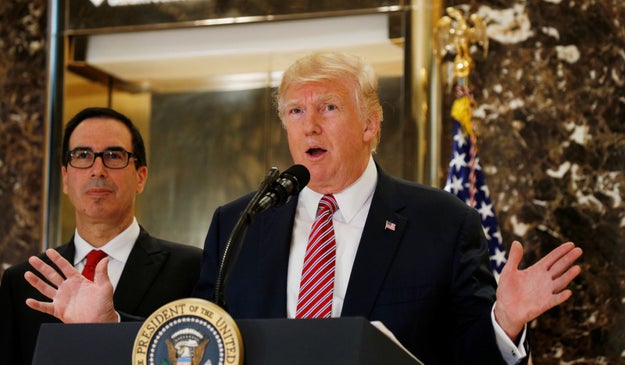 View this image ›
Kevin Lamarque / Reuters
ID: 11639362
President Donald Trump was supposed to talk about infrastructure in Manhattan on Tuesday afternoon. Instead, he vehemently defended white supremacists, sending shockwaves through the Republican Party and his own administration.
"Beyond being wrong, it is just another totally needless, self-inflicted wound," said a source close to the administration. The source added that new White House Chief of Staff John Kelly, who was supposed to tighten up a flailing operation, "will be seen as having failed his first test. Fair or unfair."
Trump's initial Charlottesville comments on Saturday about "many sides" being responsible for the violence drove some congressional Republicans to explicitly and publicly break with the president during a serious domestic crisis. Now, with Trump forcefully digging in on those comments, his policy agenda and political relationships with his own party are wavering.
"I don't understand what's so hard about this," said Rep. Steve Stivers, chair of the National Republican Congressional Committee, in a statement after the president's press conference. "White supremacists and Neo-Nazis are evil and shouldn't be defended."
"I'm baffled," said one GOP strategist on Tuesday afternoon. "Truly mind-boggling," said a House Republican aide.
Read more here.
—Adrian Carrasquillo, Tarini Parti, and Alexis Levinson
ID: 11639368
Alt-right organizers vow to hold Boston rally despite speakers dropping out after Charlottesville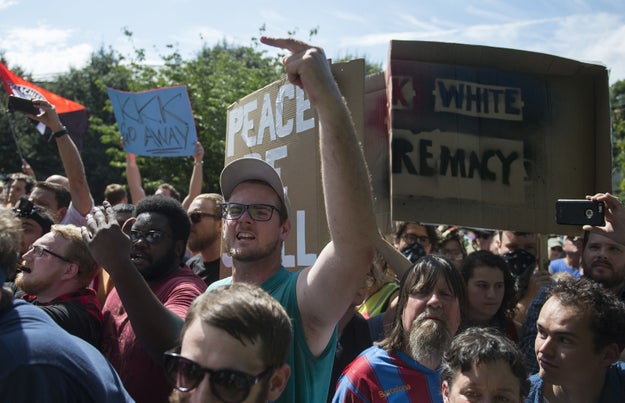 View this image ›
Andrew Caballero-reynolds / AFP / Getty Images
ID: 11639008
The future of an alt-right rally scheduled for Saturday in Boston is in limbo after several speakers dropped out, and the city's mayor told the organizers, "We don't want you here." There is also a dispute over whether organizers have obtained the required permits, officials say.
On Monday, the group behind the event reassured followers on Facebook that the rally is still on, writing in a post: "The rally on Saturday IS NOT CANCELED. Not sure where this rumor came from."
However, reports started to circulate that the Boston event wasn't going to happen as speakers announced that they were dropping out in the wake of the deadly violence in Charlottesville, Virginia.
Read more here.
—Mike Hayes
ID: 11639013
Trump claims he delayed condemning white supremacists because he waits for "the facts" before talking about an attack — but that's total BS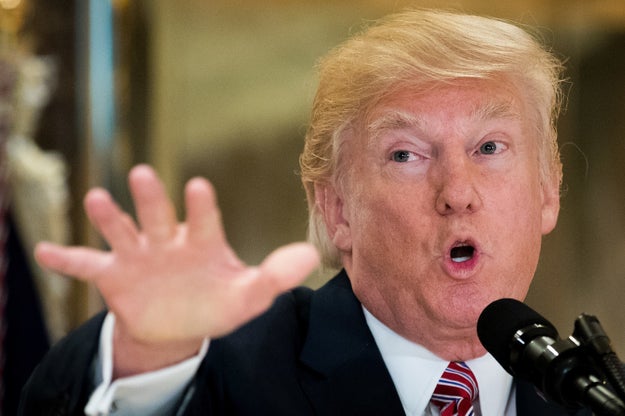 View this image ›
Drew Angerer / Getty Images
ID: 11638950
President Donald Trump, who has been roundly criticized by Republicans and Democrats alike for taking two days to explicitly condemn white supremacists and hate groups after the violence in Charlottesville, told reporters on Tuesday that he only delayed so that he could wait for "the facts."
"I wanted to make sure, unlike most politicians, that what I said was correct, not make a quick statement," he said. "It takes a little while to get the facts. You still don't know the facts. It is a very, very important process to me. It is a very important statement. So I don't want to go quickly and just make a statement for the sake of making a political statement."
But Trump routinely comments on violent incidents soon after they occur — especially when he presumably assumes the attackers are Islamic extremists.
Read more here.
—David Mack
ID: 11638953
One of the featured speakers at the Charlottesville rally now says he's running for Senate
View this image ›
Andrew Caballero-reynolds / AFP / Getty Images
ID: 11638888
One of the speakers featured at the white supremacist rally in Charlottesville, Virginia, last weekend announced on Tuesday that he's running for the US Senate as a Republican.
Augustus Sol Invictus, a Florida man whose given name is reportedly Austin Gillespie, announced his second bid for the Senate on Tuesday in a livestream outside what appeared to be Democratic Sen. Bill Nelson's Washington office. In his announcement, Invictus defended the rally that turned deadly on Saturday, blaming violence on the liberal counterprotesters.
"The left has been physically attacking patriot gatherings, free speech rallies, and protests of the destruction of our heritage in the south. They have waged a campaign of terror from coast to coast and all across Europe for well over two years now," Invictus said, in a dramatic Southern drawl.
Invictus has run for Senate before, making an unsuccessful bid for the Libertarian Party nomination in the 2016 race for Florida Sen. Marco Rubio's seat. Back then, he made national headlines for claiming to have once drunk goat's blood.
Read more here.
—Lissandra Villa
ID: 11638894
Democrats call for hearings on white nationalism and domestic terrorism in the wake of Charlottesville violence
House Democrats called for hearings in Congress to address white nationalism and domestic terrorism on Tuesday, saying: "Unfortunately, it has become clear we cannot count on President Trump for action."
Democrats on the House Homeland Security Committee have made the request to its Republican chairman, Mike McCaul, before, and renewed those calls in a letter on Tuesday following last weekend's deadly white supremacist rally in Charlottesville.
"Even before [Trump] was elected, many of us were concerned that his unwillingness to denounce and distance himself from white nationalists would be taken as tacit support by those ready to use violence to advance their racist ideology," Democrats wrote in the letter to McCaul, which was signed by all 12 Democratic members of the committee. "As leaders of the legislative branch of government, we must stand up to all ideologically-motivated violence."
Trump was highly criticized by members of both parties for his reluctance to call out the hate groups associated with the rally in its immediate aftermath. Under pressure, Trump called out the Ku Klux Klan, neo-Nazis, and white supremacists on Monday.
But on Tuesday afternoon, just as the letter was released, Trump held a highly criticized press conference, in which he stuck to his original stance that there was blame on "both sides," and argued that the "alt-left" had "violently" attacked "the other group" over the weekend.
Read more here.
—Lissandra Villa
ID: 11638774
Two victims of the Charlottesville car attack are suing the driver and white supremacist leaders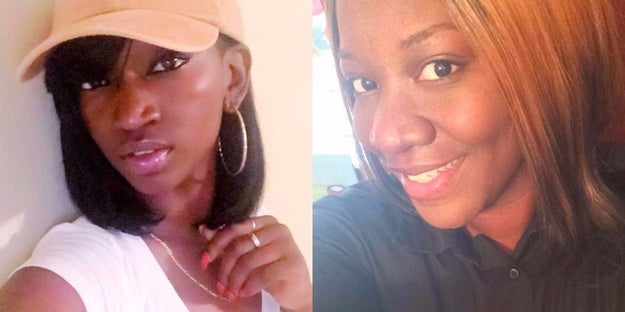 View this image ›
ID: 11638704
Two women who say they were among 19 people injured in Charlottesville on Saturday are suing the man who rammed his car into a crowd and other white supremacists who were involved in organizing and participating in the demonstrations over the weekend.
Sisters Micah and Tadrint Washington were driving home when James Alex Fields Jr. drove his car into a crowd of anti-racism protesters in Charlottesville on Saturday, also plowing into the back of their car, their attorney, Tim Litzenburg, told BuzzFeed News.
"The crash caused plaintiffs to slam into the dashboard and windshield leaving them with serious injuries to their head and extremities," the lawsuit reads. "Plaintiffs' vehicle was covered in blood and numerous victims of the attack were laying beside the vehicle as first responders were providing treatment and attempting to resuscitate Heather Heyer, a victim that was killed in the attack."
The Washingtons are suing Fields, Unite The Right organizer Jason Kessler, white nationalist leader Richard Spencer, former KKK grand wizard David Duke, and 26 other individuals and organizations they say were involved in planning Saturday's racist rallies, arguing that the defendants caused physical and emotional injury to the sisters. The Washingtons are also bringing civil conspiracy charges against the defendants.
"We consider this an act of domestic terrorism," Litzenburg said. "What we look forward to is getting them and their leaders in a Charlottesville courtroom in front of a jury."
Read more here.
—Nidhi Prakash
ID: 11638707
Trump angrily defends racists who sparked riots in Charlottesville, argues there are "two sides to a story"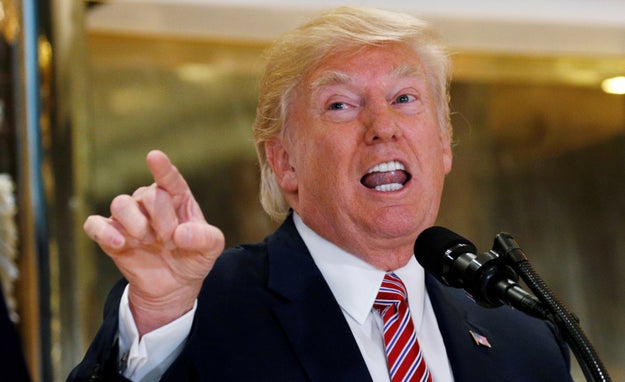 View this image ›
Kevin Lamarque / Reuters
ID: 11638566
In a heated, off-the-cuff press conference on Tuesday, President Donald Trump defended the racists who sparked the violent riots that led to a suspected terror attack and three deaths in Charlottesville last weekend, inaccurately blaming much of the violence on the "alt-left."
"Not all of those people were white supremacists by any stretch," Trump said. "What about the alt-left that came charging at, as you say, at the alt-right? Do they have any semblance of guilt?"
"There are two sides to a story," he went on, after explaining that "a lot of people" at the white supremacist march were there to "innocently protest."
Trump also defended the monuments of Confederate-era leaders that are being taken down across the country, both quietly and with fanfare.
"This week it's Robert E. Lee, and this week, Stonewall Jackson," Trump told reporters, echoing a line that's been circulating among right-wing commentators in recent days. "Is it George Washington next? You have to ask yourself, where does it stop?"
The president also stood up for himself, attributing his delay in condemning white supremacy after the events in Charlottesville to his desire to "get the facts" before quickly making a political statement.
His tirade shocked and infuriated lawmakers from both parties, many of whom urged the president to take a stronger stand against racism and bigotry.
Read more here.
—Brianna Sacks
ID: 11638574
"I couldn't allow myself not to go," says a friend of Heather Heyer, of counterprotesting at Charlottesville
ID: 11633029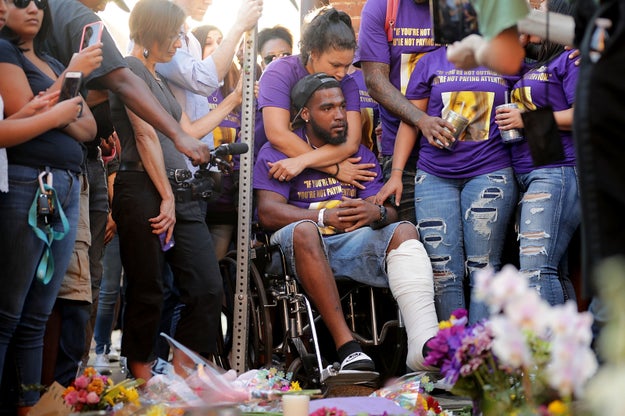 View this image ›
Marcus Martin and Marissa Blair (behind, with arms around Marcus). Chip Somodevilla / Getty Images
ID: 11633143
Marcus Martin, 26, and his fiancé, Marissa Blair, 27, both counterprotested in Charlottesville over the weekend, standing up to the white supremacist and neo-Nazi groups there for the Unite the Right rally. When a car plowed into the anti-racist demonstrators, Martin pushed Blair out of the way, injuring his leg in the process. Both spoke with CNN's Chris Cuomo on Tuesday.
"How is your leg? How is your heart?" he asked.
"Heavy, heavy. It's just a lot of pain. It's a lot to cope with," Martin said. Both he and Blair wore purple and gold T-shirts commemorating Heather Heyer, the 32-year-old woman who died in the car attack. Blair was a friend and coworker of Heyer's.
Martin said that initially he hadn't planned to attend the rally, but when he went on Facebook, he saw "videos of them just beating them with torches."
"I stand for my black community," he said. "Being able to see what was really going on, I couldn't allow myself not to go."
Martin said he remembered walking up the street, and the "car was just sitting there, and then out of nowhere — I'm looking down at my phone, — and then you hear the tires screech, and then I look up and bodies are just flying, and I just thought for one split second — I didn't think about myself, I thought about my fiancé. I had to protect her. That's what I'm here for, her protection, and I put it all on the line for her."
Blair said that since the event the two have gotten "nothing but love and support and kindness from people all over the world, people we don't even know."
Asked by Cuomo how they feel about President Trump's leadership since the events, Martin said, "No comment…because I don't have anything positive to say."
Blair said she doesn't see him as her president.
"He's not representing the citizens of America like he's a president. He hasn't earned it," she said. "He hasn't shown us anything. He said that being a president is harder than he thought it would be. You're protecting the country. You're protecting America. It's families, it's safety. You're supposed to unite us and make us a better country, and you haven't done it. You haven't even started. You haven't even began to think about why you even wanted to be president, other than a publicity stunt… 'President Trump' will never come out of my mouth, in terms of showing any type of respect to him."
—Cora Lewis
ID: 11633138
The big question for investigators is whether the Charlottesville car attack was premeditated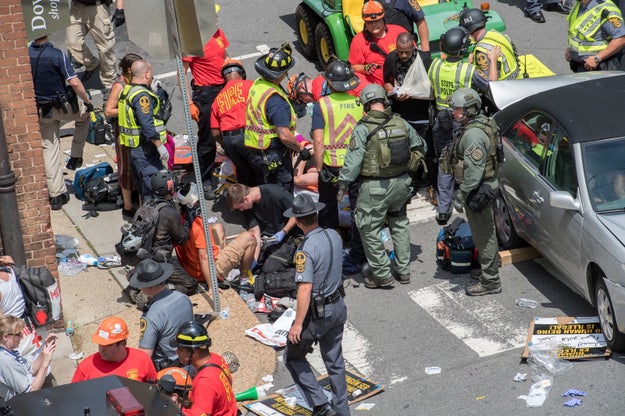 View this image ›
People receive first aid after a car drove into a crowd of protesters in Charlottesville on Saturday. Paul J. Richards / AFP / Getty Images
ID: 11632454
When a car plowed into a crowd of counterprotesters in Charlottesville on Saturday, killing one person and injuring 19, the refrain was almost immediate: This is what ISIS does.
The terror group, as well as its sympathizers, has deployed the tactic in Nice, Berlin, Paris, and London, and written about it in its English language magazine, Dabiq. Did that influence James Alex Fields Jr., 20, of Maumee, Ohio, who has been charged with second-degree murder, three counts of malicious wounding, and failing to stop at the scene of a crash that resulted in a death?
Police have yet to determine Fields' motivation or any planning. But the choice of car as a weapon in a part of the country where firearms are easily obtainable contrasts with the choices by ISIS or ISIS-inspired attackers in Germany, the UK, and France, where the government tightly restricts gun ownership.
ISIS frequently suggests the use of ordinary items by its supporters in attacks, but in the United States, the small number of jihadist-related attacks since 2001 have involved firearms or improvised explosive devices. Those have also been the preferred weapons of violent right-wing extremists over the last two decades, according to the FBI.
Read more here.
—Mitch Prothero
ID: 11632457
Uber permanently banned a white supremacist from its platform on Saturday, becoming one of just a handful of tech companies that have denied service to people affiliated with the violence in Charlottesville
Uber permanently banned white supremacist James Allsup from its ride-hail platform on Saturday after an Uber driver in Washington, DC, kicked him and alt-right leader Tim Gionet, better known as Baked Alaska, out of their ride for allegedly making racist remarks.
The decision makes Uber one of a handful of tech companies that denied service to groups or individuals associated with the violent white supremacist rally that took place in Charlottesville on Saturday.
Read more here.
—Caroline O'Donovan
ID: 11632424
Two more CEOs announced they are leaving Trump's manufacturing council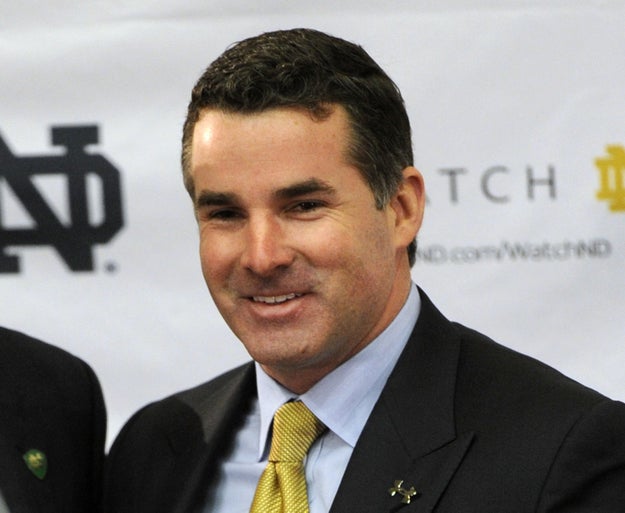 View this image ›
Under Armour CEO Kevin Plank. Joe Raymond / AP
ID: 11631439
The CEO of Under Armour announced on Monday that he was resigning from President Trump's American Manufacturing Council, making him the second business leader to abandon the group amid fallout over Trump's response to racial violence in Virginia.
In a statement, Kevin Plank said that he joined the council because he thought it was important to "have an active seat at the table." However, he has determined that Under Armour "engages in innovation and sports, not politics."
Plank added that he will now focus his efforts on "inspiring every person that they can do anything through the power of sport which promotes unity, diversity and inclusion."
The statement did not explicitly reference Saturday's unrest, in which one person died at a white supremacist rally in Virginia, but it did come the same day that Merck CEO Kenneth C. Frazier also left the American Manufacturing Council. Frazier said he was leaving because American leaders need to reject "hatred, bigotry, and group supremacy."
"As CEO of Merck and as a matter of personal conscience, I feel a responsibility to take a stand against intolerance and extremism," Frazier added.
Trump was criticized for not coming out sooner and more forcefully against the white supremacists.
Shortly after Plank's announcement on Monday night, Intel CEO Brian Krzanich announced that he would also be stepping down from the manufacturing council.
"I have already made clear my abhorrence at the recent hate-spawned violence in Charlottesville, and earlier today I called on all leaders to condemn the white supremacists and their ilk who marched and committed violence," Krzanich said in a statement. "I resigned because I want to make progress, while many in Washington seem more concerned with attacking anyone who disagrees with them. We should honor – not attack – those who have stood up for equality and other cherished American values. I hope this will change, and I remain willing to serve when it does."
—Jim Dalrymple II and Grace Wyler
ID: 11631417
more updates 
Reporting by Blake Montgomery and Andrew Kimmel in Charlottesville, Virginia; Cora Lewis, Amber Jamieson, Julia Reinstein, Nidhi Prakash, Remy Smidt, Ellen Cushing, Talal Ansari, Tom Namako, and David Mack in New York; Grace Wyler, Jim Dalrymple II, and Claudia Koerner in Los Angeles; Lissandra Villa and Matt Berman in Washington, DC; Alicia Melville-Smith in London; and Michelle Broder Van Dyke in Honolulu.
CORRECTION: An earlier version of this post featured images from a July protest in Charlottesville.
ID: 11619979
53.
Hundreds Of Torch-Wielding White Nationalists Marched Through The University Of Virginia
buzzfeed.com
ID: 11619982
54.
People Are Mocking White Nationalists For Marching With Literal Tiki Torches
buzzfeed.com
ID: 11619983
Check out more articles on BuzzFeed.com!