James Dolan sees the declining financial future of pro sports franchises. Maybe he'll finally sell his team!
---
---
Sports
Knicks' Bumbling Boss Has One Good Idea
James Dolan sees the declining financial future of pro sports franchises. Maybe he'll finally sell his team!
by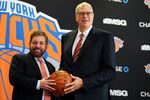 If you're a fan of the New York Knicks, or a professional basketball fan generally, you probably have strong feelings about Knicks owner James Dolan, and (probably) not pleasant ones.
It's not just that in the 18 years since he was put in charge of the team by his father, Cablevision founder Charles Dolan, the team has had only five winning seasons. It's the way he's gone about all that losing. He's fired competent executives (Donnie Walsh), and hired incompetent ones (Phil Jackson). He not only supported Isiah Thomas (speaking of incompetent execs) despite a sexual harassment lawsuit brought by one of his own employees, he actually rehired Thomas to run a women's professional basketball team, the New York Liberty.
He's gotten into fights with fans and former players, most recently fan favorite Charles Oakley, who was forcibly removed from Madison Square Garden earlier this year by security guards and has now filed a lawsuit. He trades away young players with potential for the likes of over-the-hill Derrick Rose or give-me-the-ball Carmelo Anthony. For Knicks fans, the list of Dolan's sins is very long indeed.
How surprising, then, to read a recent client note 1 from a credible Wall Street analyst describing Dolan in a different way: as not only a shrewd businessman, but as a seer, a man who can see, in a way his peers cannot, that the relentless rise in the value of sports franchises constitutes a bubble. And a bubble that is likely to burst. If Dolan follows this belief to its logical conclusion, he'll soon be putting the team on the block. Knicks fans can only hope.
The analyst in question is Brandon Ross, who works with Rich Greenfield in following media companies for the investment firm BTIG LLC. Greenfield is best known for his bullish views on Netflix Inc. and his bearish views on legacy media companies like the Walt Disney Co. 2 Greenfield and Ross have an overarching thesis: The powerful advantages of digital media for consumers will bring about the disintegration of the cable bundle — and with it, the profits of companies that rely on the bundle. Indeed, it's already happening.
Dolan believes the same thing. As Ross notes, even as other cable operators have been doubling down by consolidating, the Dolans shed Cablevision in 2015, selling it to Altice for $17.7 billion. And in January, at the annual Consumer Electronics Show in Las Vegas, Dolan sat on a panel to discuss "the future of sports content," during which he expressed views that are heresy to most of his fellow professional sports owners.
"Viewing habits are changing," he said, "and how people get the game and how they view it is also changing." That part, of course, is not heresy; everyone agrees that more and more sports fans are abandoning cable television and watching games via streaming. At the same time, many non-sports fans, who have historically had to pay for sports channels through the cable bundle, no longer have to; they can either cut the cord or get a smaller bundle without sports channels. Inevitably all these defections have caused cable industry revenue to decline.
Dolan's heresy is in realizing that cable's pain is eventually going to hurt pro sports as well. It should seem obvious that if ESPN, to cite the most dramatic example, is hemorrhaging subscribers and revenue, it's not going to be able to keep increasing its rights payments for college and pro sports, something it (and every other rights buyer) has done as a matter of course over the last three decades or so.
Currently, ESPN (owned by Disney) and Turner (part of Time Warner Inc.) are paying the National Basketball Association $24 billion to air games through the 2024-2025 season. Most of that money flows to the league's 30 teams, accounting in most cases for a quarter to a third of their revenues, according to Forbes. If those rights fees start falling, it will turn profitable teams into unprofitable ones.
Did Steve Ballmer, the former Microsoft chief executive, think about that when he was buying the Los Angeles Clippers in 2014? Unlikely. He paid $2 billion for a team that Forbes was then valuing at $575 million. Did Tilman Fertitta consider it when he paid $2.2 billion for the Houston Rockets earlier this month? I doubt it.
But perhaps because of his cable background, Dolan clearly has thought about it. "If the system falls apart, which it looks like it is starting to erode now," he said at that sports panel in January, the value of TV rights will drop dramatically. "And that's really the thing we will all have to grapple with," he concluded.
It's true, as my Bloomberg View colleague Justin Fox pointed out recently, that the profit potential of a pro sports team is hardly the main reason wealthy people want to own one. But even owners who profess only to care about winning do want to see the value of their franchises increase. That's the key to making a killing in sports: There has always been somebody willing to buy a team for more — usually much more — than the current owner. It's the Greater Fool theory, though even the Greater Fools have wound up making money.
If, however, the disintermediation of the cable business means a big drop in rights fees, then sports-franchise valuations will start declining. And it's pretty unlikely that the big internet companies will pick up the slack: Amazon has the streaming rights to the National Football League's Thursday night game this season, for which it's paying an anemic $50 million.
After the Rockets sale, Bloomberg News reported that Macquarie Research was now valuing the Knicks at $3.5 billion. Given that the franchise, for all its self-inflicted wounds, is still the most valuable team in professional basketball, my guess is that Dolan could get quite a bit more, maybe $4 billion. What hedge fund billionaire wouldn't want it? 
I find Dolan's logic irrefutable. The internet has a remarkable knack for making companies — and entire industries — less valuable. Why would sports franchises be immune? Brandon Ross is convinced that Dolan will soon put the franchise up for sale. If he does, he'll make himself richer and look smarter.
And he'll make Knicks fans a whole lot happier.
This column does not necessarily reflect the opinion of the editorial board or Bloomberg LP and its owners.
Registration required.
Greenfield has a rare "sell" rating on Disney.
To contact the author of this story:
Joe Nocera at jnocera3@bloomberg.net
To contact the editor responsible for this story:
Jonathan Landman at jlandman4@bloomberg.net
Comments