A federal judge revoked Martin Shkreli's bail after he said on Facebook he'd pay $5000 for strands of Hillary Clinton's hair.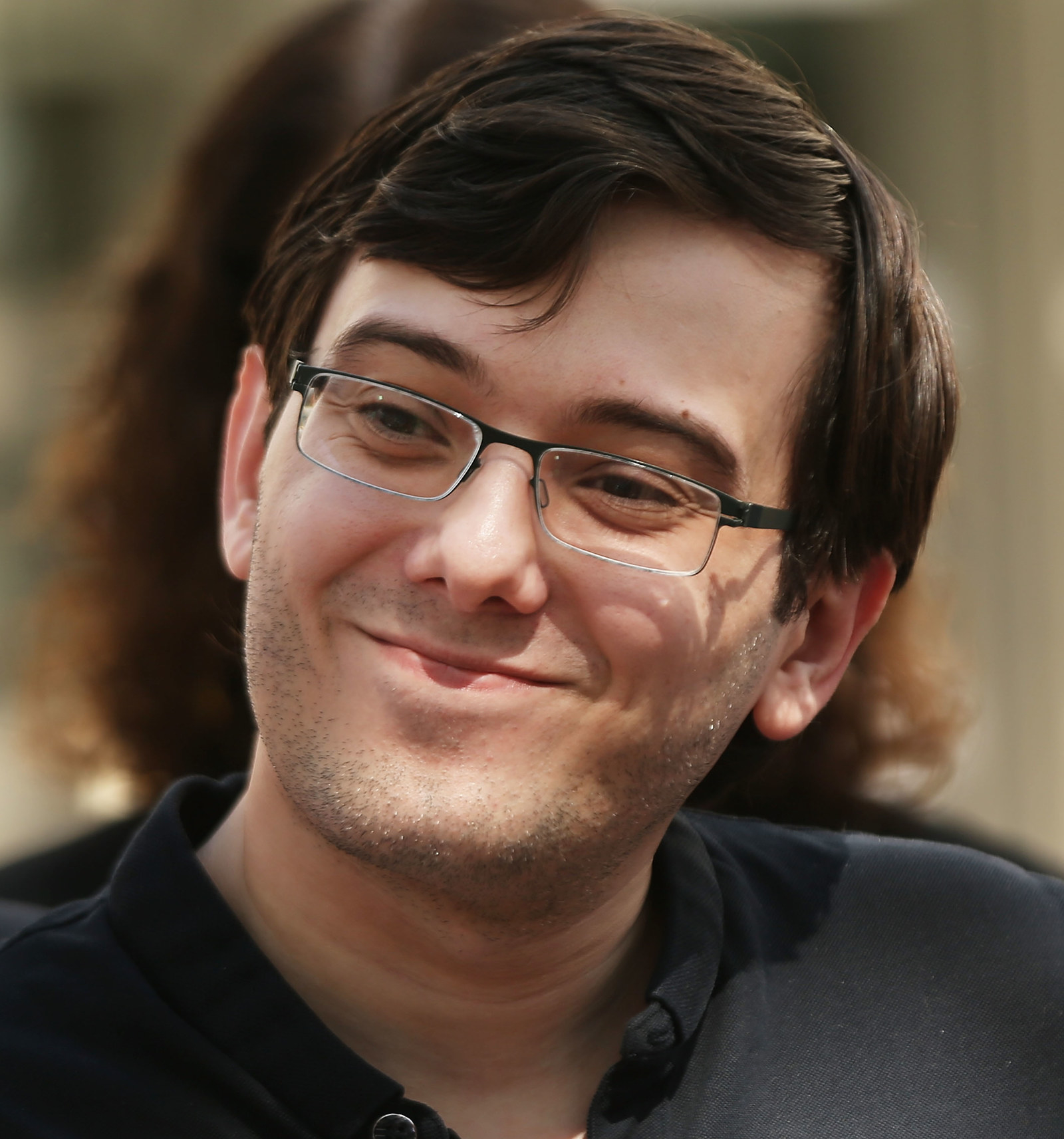 Spencer Platt / Getty Images
A federal judge revoked "pharma bro" Martin Shkreli's bail Wednesday after he offered $5,000 to people who could pull Hillary Clinton's hair during her book tour, a spokesman for the Department of Justice confirmed to BuzzFeed News.
Federal prosecutors asked a judge last Thursday to revoke Shkreli's bail and throw him in jail for the threatening Facebook posts, according to a court motion filed in New York
In their motion, federal prosecutors asked US District Judge Kiyo Matsumoto to revoke the former pharmaceutical executive's $5 million bond in order to take him into custody over what they say is dangerous public conduct.
Shkreli was ordered to be taken into custody until his sentencing hearing.

Last month, Shkreli was convicted on several counts of securities fraud for lying to investors of his failed hedge fund, and one count of conspiracy to commit securities fraud. He faces up to 20 years in prison and said he plans to challenge the conviction.

The Sept. 4 Facebook post sparked a call from the US Secret Service, and Matsumoto said it showed Shkreli posed a danger to the public.
Before being found guilty of securities fraud, the "pharma bro" garnered international attention and condemnation for his decision to drastically raise the price of a life-saving drug used by HIV patients from $13.50 to $750 per pill.
Shkreli, who has a brash social media presence and was suspended from Twitter for harassing a Teen Vogue writer, told his nearly 100,000 Facebook followers to
"grab hair from" Clinton while she was on her book tour.
"Will pay $5,000 per hair obtained from Hillary Clinton after the sequence matches. Good luck, patrollers," he wrote on Facebook. The post has since been removed.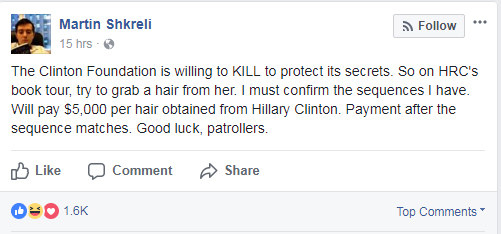 Facebok
ADVERTISEMENT
Shkreli has routinely and emphatically voiced his support for President Donald Trump, who once called him a spoiled brat.

Citing this and other social media postings, prosecutors argued that Shkreli's "recent public conduct demonstrates that he cannot meet his post-trial burden to show, by clear and convincing evidence, that he does not pose a danger to the community."

They also point out that his offer to pay someone thousands of dollars for the former presidential candidate's hair has "required a significant expenditure of resources by the United States Secret Service, which is charged with protecting Secretary Clinton."
Last week, Shkreli shrugged off the seriousness of the social media posts, saying, "It was just a prank, bro!"

"But still, lock HER up. Spend your resources investigating her, not me!!" he added.
Read the full motion here:
Download PDF
"Pharma Bro" Martin Shkreli Has Been Convicted At His Securities Fraud Trial
https://www.buzzfeed.com/maryanngeorgantopoulos/pharma-bro-martin-shkreli-trial-verdict?utm_term=.pk8Zolyay#.gp8XLgrPr
Here's How Big Pharma Plans To Clean Up After Martin Shkreli
https://www.buzzfeed.com/stephaniemlee/heres-how-big-pharma-plans-to-clean-up-after-martin-shkreli?utm_term=.bhW50Mw7w#.lyxPmJWAW
Brianna Sacks is a reporter for BuzzFeed News and is based in Los Angeles.
Contact Brianna Sacks at brianna.sacks@buzzfeed.com.
Got a confidential tip? Submit it here.
Promoted by
News moves fast. Keep up with the BuzzFeed News daily email!
Sign up
Great!
You're almost there! Check your inbox and confirm your subscription now!
View Comments