Middle Eastern conflicts fuel arms exports from ex-communist region
---
---
Eastern European arms exporters are capitalizing on years of turmoil in the Middle East.
Makers of bullets, assault rifles and guided missiles in countries including Bulgaria and the Czech Republic have seen demand surge as conflicts swept across the region in the wake of the Arab Spring. As well as selling weapons to nations actively involved in fighting, such as Iraq and Saudi Arabia, they've also struck deals with the U.S. and other third parties.
"The uptick in arms sales to the Middle East does appear to have coincided with a general ramp up in armed conflict in the region," Lucas Dos Santos, head of Europe country risk at BMI Research, said by email. "While the worst may be behind us, low level conflict will simmer on for some time. As such, demand should remain fairly well supported."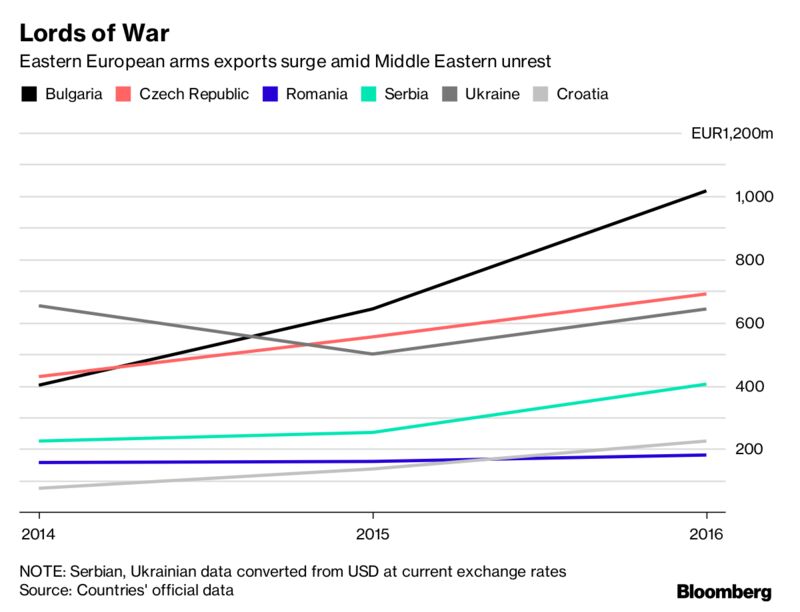 Ex-communist Europe remains embedded in military supply chains that date back to the Soviet Union, whose clients often included governments in the Middle East. That's helped them outstrip global growth in weapons and military equipment sales, which reached 8.4 percent between 2012 and 2016, the biggest five-year jump since 1990, according to the Stockholm International Peace Research Institute.
While arms exports make up a small chunk of gross domestic product -- just 2 percent in Bulgaria, and that's the highest proportion in the region -- they've helped support growth amid the malaise of recent years in more traditional markets in the euro area. It's a different story in nearby Russia, which once called the shots in the Eastern Bloc and is now the world's second-biggest weapons exporter after the U.S.
As well as playing a decisive role in the war in Syria, President Vladimir Putin's government notched sales of $15 billion last year and this month finalized a deal to supply Turkey with air-defense missiles. That contract alone may be worth $2.5 billion. Moscow's former satellites are some way behind.
— With assistance by Ladka Mortkowitz Bauerova, Andra Timu, Daryna Krasnolutska, Jasmina Kuzmanovic, Gordana Filipovic, and Radoslav Tomek
Have a confidential news tip?
Get in touch with our reporters.