Oil companies were heading back into the Gulf of Mexico and working to restore operations after Hurricane Nate fizzled out over the U.S. South on Sunday.
---
---
Nate was latest hurricane to hit in busy tropical storm season

Damage estimates fell to $2.5 billion as New Orleans spared
Oil Companies Head Back to Gulf of Mexico
Oil companies were heading back into the Gulf of Mexico and working to restore operations after Hurricane Nate fizzled out over the U.S. South on Sunday.
While an estimated 93 percent of U.S. oil production in the Gulf was still shut, no damage had been reported, suggesting crude and natural gas supplies may quickly rebound this week. Power failures related to Nate, which was downgraded to a tropical depression over Alabama, have fallen to about 66,000 customers, utility data compiled by Bloomberg show.
Nate spared the U.S. Gulf the worst of its rain and wind by falling apart shortly after making landfall near Biloxi, Mississippi, as a Category 1 hurricane. Losses may reach about $2.5 billion as the system struck a stretch of the coast dotted with casinos and resorts, but energy assets emerged unscathed. Drillers including Chevron Corp. and Royal Dutch Shell Plc were already working to restore production.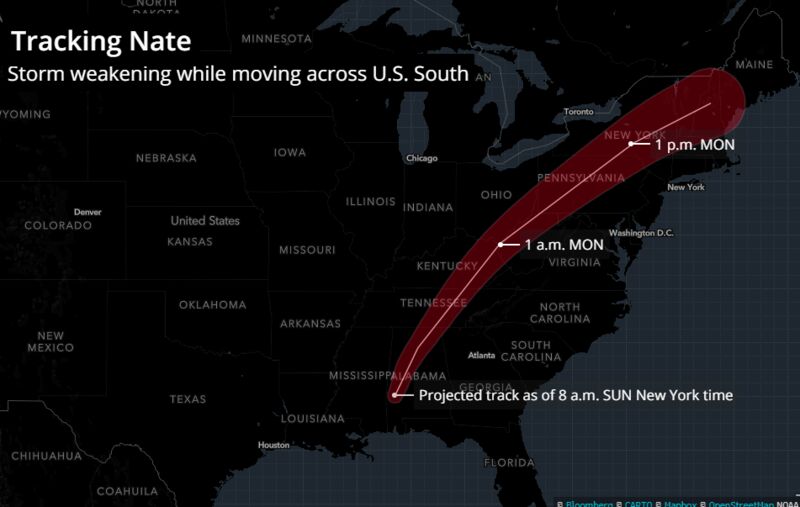 Gulf oil and gas production "should fully recover by the end of the week, if not sooner," Andy Lipow, president of Lipow Oil Associates in Houston, said by phone Sunday. Nate was "was very fast-moving, it doesn't seem that much damage was done to any of the offshore platforms, and the oil companies will be able to get their people back in place in short order," he said.
Less than a day after the storm's landfall, Chevron and Shell were returning workers to the Gulf. Chevron was also assessing pipelines and terminals before bringing them back into service, and the storm had no effect on supply at its Pascagoula refinery.
Anadarko Petroleum Corp. began restoring workers and said it expected to resume production "as quickly and safely as possible." Magellan Midstream Partners LP resumed normal operations at the Marrero and Gibson oil terminals in Louisiana, and Enbridge Inc. returned workers to platforms in the Gulf on Sunday afternoon.
Chuck Watson, a disaster modeler with Enki Research in Savannah, Georgia, pegged total damages at about $2.5 billion, down from as high as $4 billion previously, after Nate's intensity fell. The lack of power on the west side of the system saved New Orleans from flooding rains.
Read More: Why We Expect More Havoc From Hurricanes Like Harvey: QuickTake
All told, 14 storms have formed across the Atlantic this season, killing hundreds in the U.S., Mexico and the Caribbean, causing an estimated $300 billion in damage and roiling energy and commodities markets. In September alone, Hurricane Harvey forced oil and gas operations shut in the U.S. Gulf, Hurricane Maria slammed into Puerto Rico and Hurricane Irma battered Florida.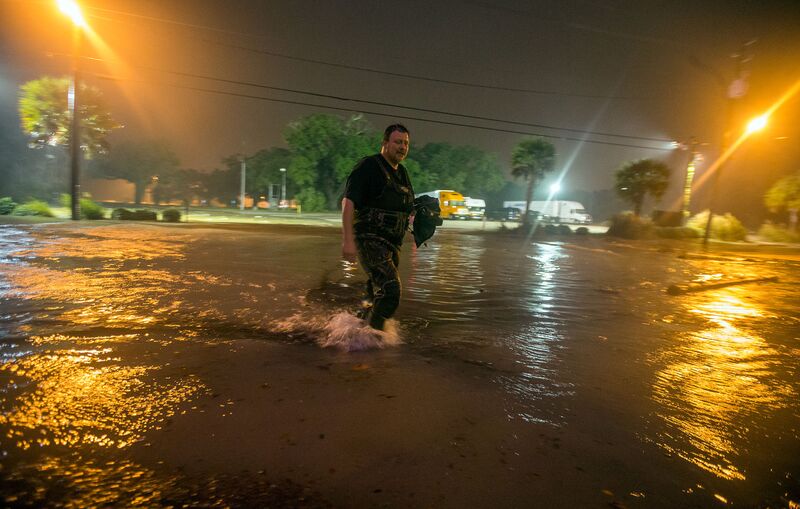 Nate isn't through just yet. The system, about 75 miles south of Nashville at 5 p.m. New York time Sunday, was continuing its trek north-northeast, according to the U.S. Weather Prediction Center.
Flash flood watches and flood warnings were issued across parts of the U.S. Southeast and southern Appalachians, and as many as 4 inches of additional rain may fall across Tennessee, Georgia, South Carolina, North Carolina and Virginia. Some isolated areas could see close to 6 inches, the center said.
Other energy-related news from Nate:
The Louisiana Offshore Oil Port, the biggest U.S. crude-import hub, was returning workers to all locations and deliveries remained on schedule; some ports in Florida, Alabama and Louisiana remained shut Sunday for assessments, according to the Energy Department.
Shell was returning personnel to its Mars, Olympus, Ursa and Ram Powell production hubs and expected to resume production after assessing equipment.
Phillips 66 shut the Alliance refinery in Louisiana Saturday, and the plant was said to be undamaged.
Southern Co.'s Alabama Power utility was dealing with the most power failures -- 50,130 customers were without service at 4 p.m. local time Sunday. The company was bringing in outside workers to help with restoration.
Entergy Corp.'s Waterford and River Bend nuclear power plants in Louisiana remained in service. So did Shell's Mobile refinery in Alabama.
Cheniere Energy Inc.'s Sabine Pass liquefied natural gas export terminal off Louisiana's coast was unaffected, and pipeline operators Colonial Pipeline Co., Kinder Morgan Inc. and Energy Transfer Equity LP reported no impacts.
— With assistance by Barbara J Powell
Have a confidential news tip?
Get in touch with our reporters.
Oil Companies Head Back to Gulf of Mexico
8mth