Health insurer Cigna is nearing a deal to buy Express Scripts Holding, according to people familiar with the matter.
---
---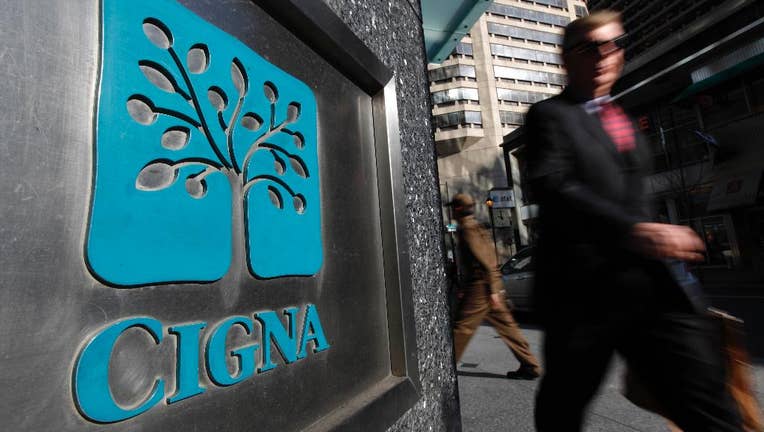 article
A  pedestrian walks past the headquarters of the health insurer Cigna Corp. in in Philadelphia (AP Photo/Matt Rourke, File)
Health insurer Cigna is nearing a deal to buy Express Scripts Holding according to people familiar with the matter.
A deal could be announced as soon as Thursday, the people said. As of Wednesday, Express Scripts had a market value of $41 billion, meaning that with a typical premium, the transaction could be worth $50 billion or more.
Terms of the expected deal couldn't be learned.
St. Louis-based Express Scripts is a pharmacy-benefit manager. Such companies serve as middlemen that help negotiate discounts with drug makers.
The combination would be the latest in a flurry of proposed tie-ups in the rapidly changing health-care-services business.
Late last year, CVS Health signed a nearly $70 billion deal to buy Aetna Inc. In 2015, Aetna agreed to buy fellow health insurer Humana in a $37 billion deal that was later terminated following regulatory scrutiny. That same year, Cigna agreed to combine with Anthem, a deal that was also blocked by regulators.
Late last year, Anthem said it would launch its own PBM, dealing a blow to Express Scripts, which is a partner of the health insurer.
Anthem was Express Scripts' biggest customer, representing some $17 billion in annual revenue for the company. Last year, Anthem said that it doesn't intend to renew its 10-year contract with Express Scripts when it expires at the end of 2019.
The Affordable Care Act and other factors roiling the health-care industry prompted the health insurers to attempt a major consolidation wave in 2015.
After they were thwarted, a new round of deal making is under way that stretches beyond just insurance. Besides this deal and CVS-Aetna, Walgreens Boots Alliance, the other top pharmacy chain alongside CVS, had been pursuing a full takeover of AmerisourceBergen Corp., a big drug distributor in which it already owns a stake. The Wall Street Journal has reported, though, that those talks appear to have cooled.
Meanwhile, grocer Albertsons Cos. recently agreed to buy what is left of Rite Aid , a smaller competitor of CVS and Walgreens, after a big chunk of the drugstore chain was sold to Walgreens.
What it all adds up to is a furious round of consolidation as health-care companies of all stripes seek to position themselves to provide more cost-effective care and fend off heightened competition from Amazon.com and others.
Amazon has taken steps to become a competitor in health-care-equipment distribution, and fears are spreading that its ambitions stretch further into the industry.
Express Scripts is the biggest administrator of prescription-drug benefits in the U.S. It has marquee clients that include the Department of Defense and Walmart.
The company had for years prided itself on its independence, even as its pharmacy-benefits competitors were gobbled up by other players in the health-care industry, including insurer UnitedHealth Group Inc. and CVS Health, a retail-pharmacy giant that is now expanding into health insurance.
Last year, Express Scripts agreed to buy private medical-benefits manager eviCore healthcare for $3.6 billion. Industry watchers viewed the deal as a way for Express Scripts to replace revenue following the expected loss of Anthem.
Bloomfield, Conn.-based Cigna is known for its focus on administering coverage for large employers, as well as a burgeoning overseas presence. With its 2012 acquisition of HealthSpring, Cigna also bolstered its Medicare business.
Write to Dana Mattioli at dana.mattioli@wsj.com and Dana Cimilluca at dana.cimilluca@wsj.com
Cigna Nears Deal to Buy Express Scripts
3mth
Cigna Near Deal to Buy Express Scripts, WSJ Says
3mth
Cigna to Buy Express Scripts in $67 Billion Deal
3mth
Cigna Agrees to Buy Express Scripts in $54 Billion Deal
3mth
Cigna Agrees to Buy Express Scripts in Latest Health Care Deal
3mth
Cigna Is Buying Express Scripts in a $54 Billion Health Industry Deal
3mth
Cigna To Buy Express Scripts For $54 Billion, Ending Standalone PBM
3mth
Health Insurer Cigna To Buy Express Scripts For About $54 Billion
3mth
Cigna to Buy Express Scripts in $67B Deal
3mth